If you asked what the biggest threat orangutans were facing ten years ago, the answer would have been illegal logging. Today, the biggest threat is the palm oil industry. But what about ten years from now? The answer just might be zircon in certain areas. While OFI is working to ensure there are orangutans in the wild, the uphill battle for land conservation only seems to get steeper. What little forest there is left after the never-ending palm oil plantations is now being used for the mining of zircon. More destructive than palm oil, zircon mines are turning the lush jungles of Borneo into desert-like wastelands. One of these wastelands has just been created as close as 600 meters from the boundary of the very piece of land that OFI is trying to save; the Rawa Kuno Legacy Forest.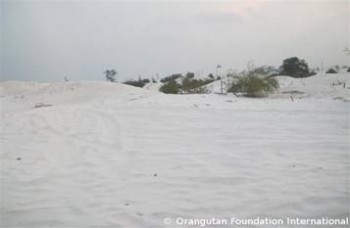 Zircon, or zirconium silicate, is a mineral found worldwide; it is the most commonly mined mineral in the world. Zircon is ubiquitous in the earth's crust and can even be found in moon rocks. Because of its abundance, it is commonly used to date other rocks and minerals. It has a melting point of over 2500 degrees Celsius, a hardness value of 7.5-8 and is highly resistant to corrosion. These factors make it a unique and versatile tool in the industrial world. The main use for zircon is in ceramics, insulation, and abrasive cleaners. It is used to make many other industrial products such as engines, electronics, spacecraft, vacuum tubes, surgical appliances, flash bulbs, explosives, and is even used in nuclear reactors. You may be surprised to learn that zircon, or a derivative, is also found in many daily household items such as ballpoint pens, computers, light bulbs, wear-resistant knives, protective clothing, and even some itch-soothing lotions. Zircon is the palm oil of the industrial world as it is used in almost everything.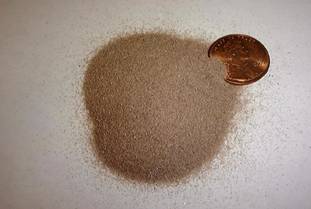 One of the modern birthstones for December, zircon crystals can be red, brown, yellow, hazel, or black. For mining purposes, it is the small particles found throughout sand that are useful. Prospecting for zircon is very similar to prospecting for gold; a pan is used to sift through sand and water to discover if zircon is present. When found, large quantities of sand are removed from the earth and put through a series of physical purifying stages. Each of these stages removes large rocks and other impurities from the fine sand containing the zircon. Requiring copious amounts of water to remove smaller and smaller impurities, what is left at the end of the process is a black sludge containing mostly zircon. Magnetic and electrostatic separation is then used to remove other metals. The final step in purification is a chlorine wash before the zircon is ready for industrial usage. Most of the zircon mining in Indonesia is only for the raw material. The processing occurs in China after tons of sand are extracted and shipped. However, some Indonesian mining companies are starting to complete the initial refining stages on-site.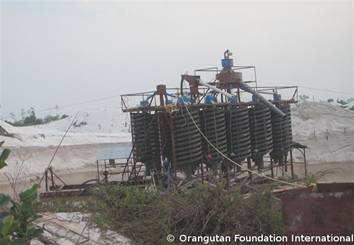 The zircon mining industry faced a recession in 2009 resulting in an overall 18 percent reduction in zircon consumption. This recession is now over and the industry has rebounded with zircon reaching record global prices. In the past ten years, Zircon consumption has increased by 10 percent in Asia alone. Currently, production cannot keep up with demand. Global zircon demand is forecast to increase by another 5 percent through 2015. An increase in demand can only mean an increase in zircon mines in Indonesia, specifically Kalimantan. Borneo is ideal for zircon mining due to the large amounts of sand covering the island. What does this mean for orangutans? Unfortunately, the outlook is not good. By comparison, zircon mining sites make palm oil plantations look good.
The real question is what can be done about this? Most immediately, you can help OFI save the Rawa Runo Legacy Forest and subsequent sections of forest that we are able to protect. In the long term, you can reduce your overall consumption of zircon. Since zircon is used in so many products, it would be nearly impossible to avoid it altogether like you can do with palm oil. You can think about your consumption in general and make an effort to simply use less.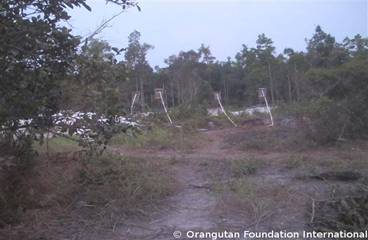 It's occasionally difficult to read a book or watch a movie without coming across some reference to the wilds of Borneo. After being here for three months and seeing the landscape, it's hard to understand what these references are all about. All I keep seeing are palm trees, scorched earth bearing nothing but black stumps, and miles of sand. Where are all the trees I keep reading about? Where did the forest go? It's in our living rooms, kitchen cupboards, and driveways. The forests of Borneo have been transformed and relocated to the western world. Please let your daily lives be a reminder of what has been lost and of what can be restored.