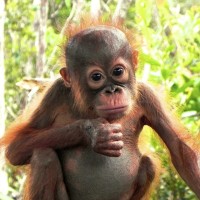 Orangutan Foundation International is committed to the privacy of its donors and supporters and to the protection of their information.
OFI's website and outreach programs are intended to serve as tools to inform the public about orangutans and related conservation issues and to provide the means for individuals to take action to help prevent their extinction in the wild. Read our full mission statement here.
This Privacy Policy details what personal information the Orangutan Foundation International collects and how this information is used.
Your privacy is very important to us. Accordingly, we have developed this Policy in order for you to understand how we collect, use, communicate and disclose and make use of personal information. The following outlines our privacy policy.
Our Privacy Policy
By visiting the Orangutan Foundation International website you consent to the collection and use of this information in the ways detailed below. Information collected through offline means, including in response to direct mailings, will be handled with the same privacy considerations. The Orangutan Foundation International regularly reviews its practices and updates this Privacy Policy as deemed necessary.
HOW DO WE USE YOUR PERSONAL INFORMATION?
We use the Order Information that we collect generally to fulfill any orders placed through the Site (including processing your payment information, arranging for shipping, and providing you with invoices and/or order confirmations). Additionally, we use this Order Information to:
Communicate with you
Screen our orders for potential risk or fraud
Provide you with information relating to our organization, when in line with the preferences you have shared with us.
We do not share and do not sell any personal information, including names, addresses, and emails, with any other organization, agency, or person.
We do not transmit ANY unencrypted credit card information across our site. All credit card data is processed by a third party, and is not accessible by any member of OFI, including, but not limited to, volunteers and paid staff. We do not store donor credit card data on our servers nor can any of our employees/volunteers access any of your credit card information.
Before or at the time of collecting personal information, we will identify the purposes for which information is being collected.
We will collect and use personal information solely with the objective of fulfilling those purposes specified by us and for other compatible purposes, unless we obtain the consent of the individual concerned or as required by law.
We will only retain personal information as long as necessary for the fulfillment of those purposes.
We will collect personal information by lawful and fair means and, where appropriate, with the knowledge or consent of the individual concerned.
Personal data should be relevant to the purposes for which it is to be used, and, to the extent necessary for those purposes, should be accurate, complete, and up-to-date.
We will protect personal information by reasonable security safeguards against loss or theft, as well as unauthorized access, disclosure, copying, use or modification.
We will make readily available to customers information about our policies and practices relating to the management of personal information.
We will use your information to issue tax receipts by mail or only by email if requested by you when you make an online donation, or use other offered services such as the "fostering an orangutan" program.
We use the Device Information that we collect to help us screen for potential risk and fraud (in particular, your IP address), and more generally to improve and optimize our Site (for example, by generating analytics about how our customers browse and interact with the Site, and to assess the success of our marketing and advertising campaigns). We use analytics to gather usage information about our website and communications. This helps us understand their effectiveness. Data you provide with consent is held until and unless you withdraw that consent.
We are committed to conducting our mission in accordance with these principles in order to ensure that the confidentiality of personal information is protected and maintained.
If you wish to have your personal information removed from our mailing list or database at any time please contact us.
Donation Services
Donations
These Terms and Conditions apply separately to each single donation that you make and unless specified by you through the donation form or online store, they do not form a contract allowing for future or successive transactions to be made unless specifically requested by you though the donation form or online store. Reoccurring donations made by PayPal are handled by PayPal and are the responsibility of the PayPal account holder to cancel. Reoccurring donations made directly on our site with your Credit Card are handled by Stripe and can be canceled by contacting the Orangutan Foundation International directly by email or phone. By confirming on this website that you wish to make a donation, you agree to be bound by these Terms and Conditions for that donation.
When an individual makes a donation on the site, they are making a donation to the Orangutan Foundation International. This process exists to facilitate the work of the Orangutan Foundation International in its stated mission. All donations made through the site are final, irrevocable and non-refundable, while still subject to the terms in this agreement and California law.
Any donation made by you does not establish or constitute an endorsement or a partnership with OFI. Any establish partnership must be made by negotiation between OFI and you or your organization.
Orangutan Foundation International retains the right to refuse any request made by you. Where a contract is made with a third party Orangutan Foundation International is not acting as either agent or principal and the contract is made between yourself and that third party and will be subject to the terms of sale which they supply you. When placing an order you undertake that all details you provide to us are true and accurate, that you are an authorized user of the credit, debit card or PayPal account used to place your order and that there are sufficient funds to cover the cost of the goods. All prices advertised are subject to change.
Donation Services
We will use your donation at our discretion but within our stated charitable objectives.
Terms of Sale/Donation
By placing an order you are offering to purchase a product or by making a donation on and subject to the following terms and conditions. All orders are subject to availability and confirmation of the order price.
Dispatch times may vary according to availability and subject to any delays resulting from postal delays or force majeure for which we will not be responsible.
(a) Pricing and Availability
Whilst we try and ensure that all details, descriptions and prices which appear on this Website are accurate, errors may occur. If we discover an error in the price of any goods or donation services which you have ordered we will inform you of this as soon as possible and give you the option of reconfirming your order at the correct price or the option of cancelling it. If we are unable to contact you we will treat the order as cancelled. If you cancel and you have already paid for the goods, you will receive a full refund. Delivery costs will be charged in addition; such additional charges are clearly displayed where applicable and included in the 'Total Cost'.
LEGAL BASIS
We use consent and legitimate interest as the GDPR basis to store and process your data. The lawful bases are (a) the performance of a contract with you and (b) it is necessary for our legitimate interests (to study how customers use our products and services, to develop them and grow our organization). Legitimate interests include:
Fulfilling orders or donation transactions you make on our website.
Responding to inquiries you make whether by phone, email, contact form, or other method.
Tailoring information based on your activity, such as what content you show interest in.
Delivering electronic information you have requested, such as our e-newsletter.
CONSENT
By using our site and/or subscribing to our email list, you consent to this Privacy Policy. If at any point you would like to opt-out or withdraw previously given consent please contact us using the details at this end of this policy. All our marketing emails contain unsubscribe links.
YOUR RIGHTS
Your rights include:
Request the personal data we hold about you
Complain to a supervisory authority if you believe we have misused your data
Withdraw consent at any time
International information transfers
DATA RETENTION
When you place an order through the Site, we will maintain your Order Information for our records unless and until you ask us to delete this information.
CHANGES
We may update this privacy policy from time to time in order to reflect, for example, changes to our practices or for other operational, legal or regulatory reasons. We may notify you of updates by email. It was last updated June 2020.
Safeguards
The Orangutan Foundation International makes all reasonable efforts to protect personal information from loss, theft, unauthorized access, copying, use, modification, disclosure and destruction by establishing and maintaining security safeguards. Should there be a breach of data, you will be immediately informed.
All Orangutan Foundation International Office staff members are made aware of the need to maintain strict confidentiality of all personal information including but not limited to disclosing donations and donor information to any 3rd parties. We protected from theft, loss, unauthorized access, disclosure, use, copying or modification regardless of how the information is stored.
Orangutan Foundation International uses Transport Layer Security (TLS) technology to help ensure the safety and security of online donations and online store purchases.
Contact Information
If you have any requests concerning your personal information or any queries with regard to these practices or would like to withdraw consent, please contact:
Orangutan Foundation International, 824 Wellesley Ave., Los Angeles, CA 90049, USA
Toll Free: 1-800-orangutan (inside the US)
Telephone: 1-(310) 820-4906
Fax: +1-(310) 820-4962

Contact Page