OFI's GIS program has grown from its beginnings as a field project to a leadership role in local GIS conservation. Our GIS maps provide clear images of rainforests and the environment in our area. This is vital to our conservation work and has real world benefits for orangutans, other wildlife, and habitat.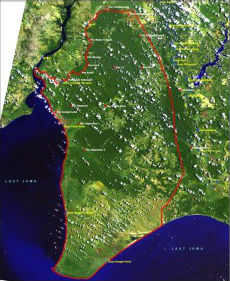 The main purpose of OFI's GIS program was to survey and establish baseline digital data for the whole area of Tanjung Puting National Park. GIS work began in October, 2003 as part of a USAID grant awarded to OFI and World Education (WE). This work involved a team of volunteer GIS analysts working in the field doing ground surveying. They then moved in the lab in order to create the computer system and database to compile all the data. The goal of this project was to map intact forest and prime orangutan habitat. It identified areas of logging and agriculture in order to plan for where management was most needed.
This initial GIS work helped to set up a system of up-to-date maps and data layers. OFI was then able to use this to assist World Education and the local government in conservation efforts. Mapping areas of high conservation value, buffer zones, and degraded habitat help OFI to support government agencies protect important Tanjung Puting National Park and helps local villages make conservation minded land use plans.
OFI's GIS program has now moved beyond just mapping Tanjung Puting National Park. It has now also taken on an important role in our land protection and purchasing campaign. OFI's local GIS Director, OFI managers, along with Dr. Birute Galdikas have now identified a high priority Wildlife Corridor. Using OFI's georaphic information system we identified this area of high conservation value containing remaining intact swamp and dry land forest. This wildlife corridor includes the Pasir Panjang Village forest and land connecting it to the recently purchased Orangutan Legacy Forest. OFI has also identified this area as a refuge for a local wild population of orangutans.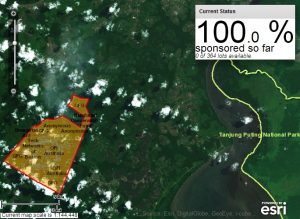 OFI has a long standing partnership with GIS software mogul and industry leader ESRI (Environmental Systems Research Institute). Most Recently ESRI has provided support for OFI's online "Sponsor Acres" forest protection campaign. OFI also attends the ESRI International User Conference each year in Redlands CA.
OFI's GIS database is one of the best in the Kalimantan thanks to recently donated high quality satellite images from Digital Globe. OFI produces information rich maps that permit us and other wildlife agencies to better prioritize areas for conservation management. This is based on a spatial assessment of habitat, resources, and disturbance threats.
GIS Maps and Images