"Ambassador for Orangutans"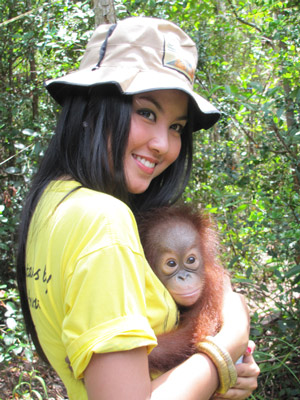 Zivanna (Zizi) Letisha Siregar, Miss Indonesia 2008 (for the Miss Universe pageant), recently visited the Orangutan Foundation International's Orangutan Care Center and Quarantine in Pasir Panjang as well as Camp Leakey in Tanjung Puting National Park as part of a well-orchestrated trip to publicize the plight of wild orangutan populations and their habitat, tropical rain forest, in Sumatra and Kalimantan. Zizi, as she is known, hails from North Sumatra where orangutan populations have declined precipitously in recent years. While Zizi has been declared Ambassador for Orangutans, her successor who hails from the province of Aceh at the very tip of northern Sumatra, Miss Indonesia 2009, is the Ambassador for Tigers which are also on the verge of extinction in Sumatra.
Zizi was accompanied from Jakarta by representatives of the Orangutan Conservation Services Program (OCSP) which is funded by USAID, an agency of the U.S. government, as well as a crowd of reporters, photographers, and television people. Her visit was not only heralded by the local media but received much attention from the local government. In the regional capital, Pangkalan Bun, she had a long meeting with the highest local official of Kotawaringin Barat regency, the "Bupati". Local officials vied to have their pictures taken with her. She also met with local NGOs and listened to presentations on their work and accomplishments relating to orangutans, forest protection, and community development and education.
Zizi had clearly done her homework. She asked penetrating questions about the pollution in local rivers stemming from strip mining and the threats to Tanjung Puting National Park. She was remarkably articulate about conservation issues for a twenty-one year old beauty queen! Clearly, she has a bright future in politics or the media. During her visit she interviewed Dr. Biruté Mary Galdikas, President of OFI, for television.
"Don't be embarrassed to love what belongs to our country Indonesia, for example orangutans, because it's not certain that such treasures are found elsewhere in the world."
– Zivanna (Zizi) Letisha Siregar, Miss Indonesia 2008