Kiki's face was one of the first ones to greet visitors to OFI's Orangutan Care Centre and Quarantine (OCCQ). She hung out on the cool front porch of the main building, in her customary belly-down sprawl. Kiki first arrived in the OCCQ on June 6, 1999, a two year old infant. At first, she lived with the other orphans in the original wooden nursery at the edge of the peatswamp forest and was provided one-on-one care by her human surrogate mother, a local assistant. Sadly, in 2004, an unknown disease which affected two other infant orangutans, paralyzed her from the neck down. The disease resembled polio. Kiki was permanently relocated to the main care center building where she was actively treated with massages and physiotherapy to maintain healthy circulation and muscle elasticity.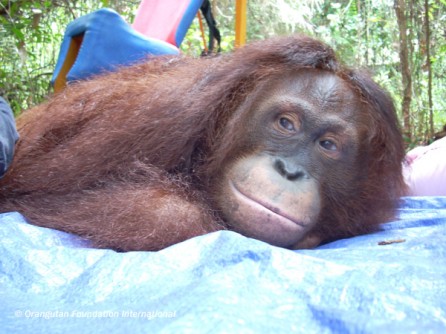 The staff and volunteers of OCCQ were saddened by Kiki's death on February 24, 2010. Swelling and other complications arising from her condition had come on rapidly, and despite the veterinarians' best effort, treatment was not successful. We hope she went on to a good place.
During her 11 years with us, Kiki caused much joy and laughter to her friends and caregivers. When offered peanuts, her favourite snack, she would blow raspberries and spit demanding more, and then use her strong jaw to pull herself across the floor towards her crunchy goal. During her daily outings to the forest, she would sit on her specially designed wheeled padded chair, and be rolled into the forest with a royal expression on her gentle face. Like a princess, too, she accepted the treats and special tidbits brought to her by her caregivers, Mrs. Suci and Mrs. Lilin. At night, Kiki slept in her own room, complete with AC and a pile of towels. She is missed.