Here at the Orangutan Foundation International (OFI) Care Center and Quarantine in Kalimantan, Indonesia, enrichment forms an important part of the day to day activities for the orangutans. Providing daily food-based enrichment for the orangutans means that they are given the opportunity to problem solve, rip, tear, and explore the parcels and treats they receive.
Enrichment is not only fun but also provides the orangutans essential nutrients through gummy vitamins slipped inside food parcels. The type of enrichment given out varies according to the availability of seasonal produce and the weather, whether it is sweltering hot or a bit cold.
Last month was all about smoothies because of the heat, but smoothies aren't the only way we help keep orangutans cool on a hot summer day. Another frozen treat that is a favorite among the orangutans are our custom-made popsicles!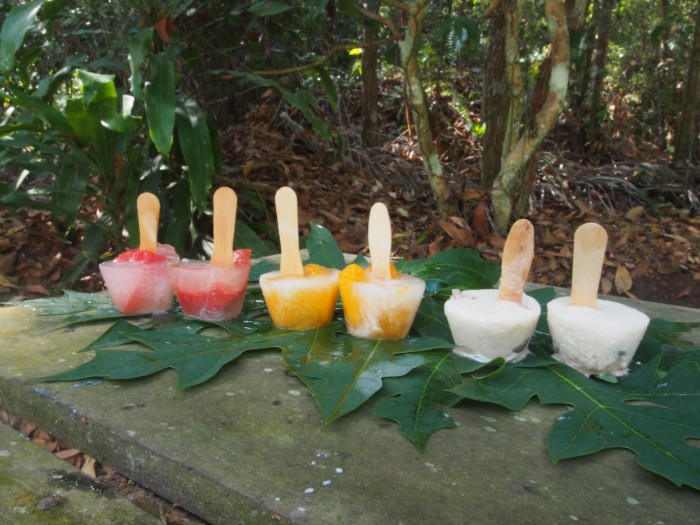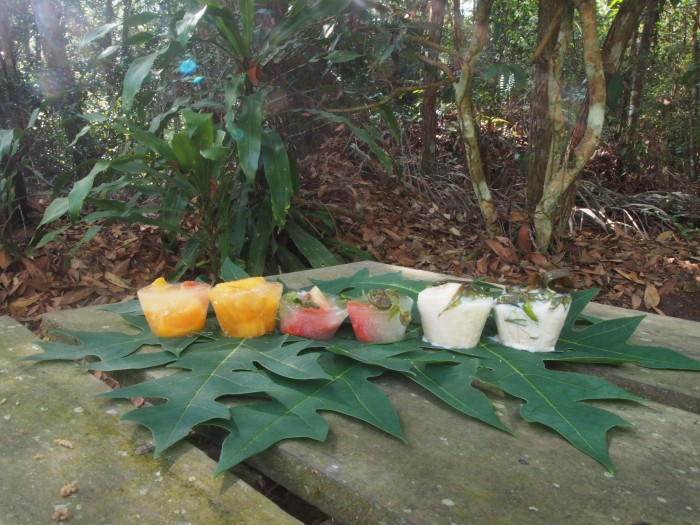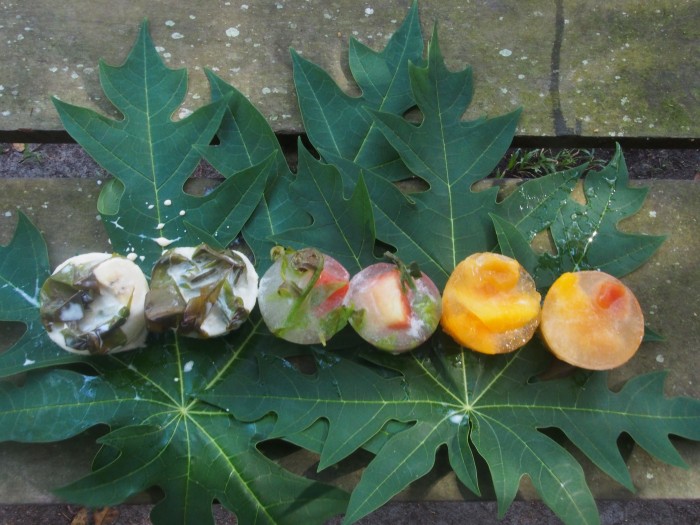 Fresh pieces of seasonal fruit are frozen along with milk, orange juice, gummy vitamins, and also leaves from the forest, leaves that wild orangutans normally forage on. These fruit and leaf ice enrichment treats not only help the orangutans to cool off but they provide important nutrients, minerals, and vitamins, some directly from the forest that the orphaned orangutans might not normally get. Orangutans love sucking at the ice as it melts to reveal the fruit pieces, wild leaves, and other goodies frozen inside!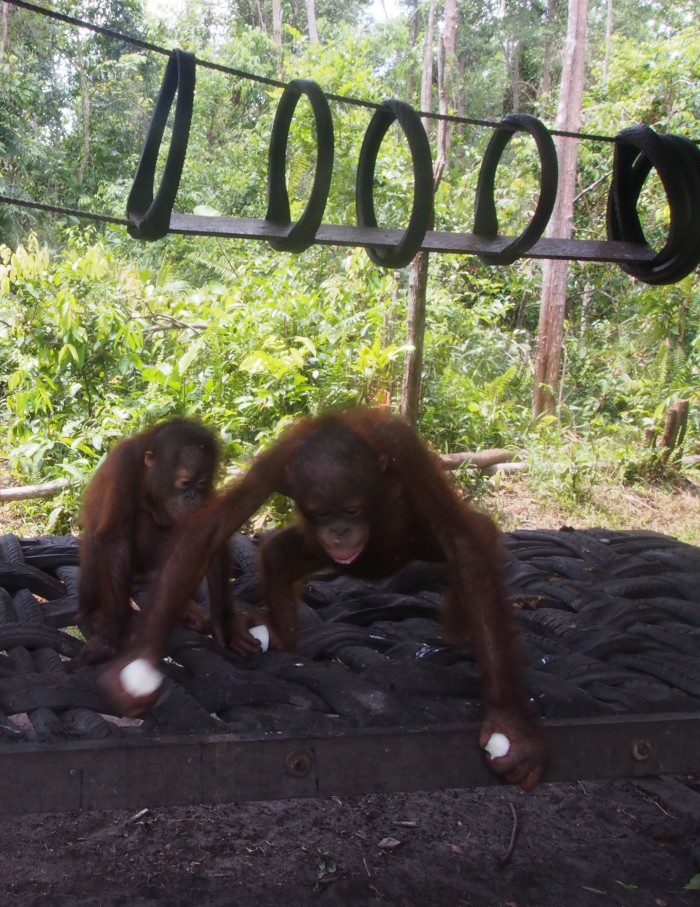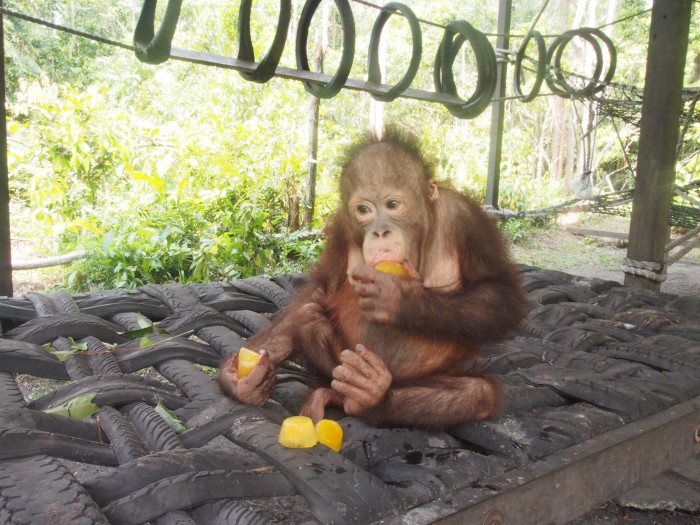 When fruit ice is being handed out as daily enrichment the orangutans often put their arms out of their sleeping enclosures asking for more. Many orangutans will lay on their backs and slowly savor the ice and milk as it melts, patiently waiting for the fruit to appear. Others will pop the whole thing into their mouth and crunch away, quickly devouring their treat.
In fact, these fruit ice Popsicles are not just a hit with the Care Center orangutans, but with the staff as well, who love sampling the human versions the day that popsicles are made. Creating a healthy snack for summer can be hard, so why not take a "leaf "out of the orangutan snack book and try a healthy icy treat.
Using seasonal fruit and juice or milk, these healthy summer popsicle recipes will help you to cool off and channel your "inner orangutan".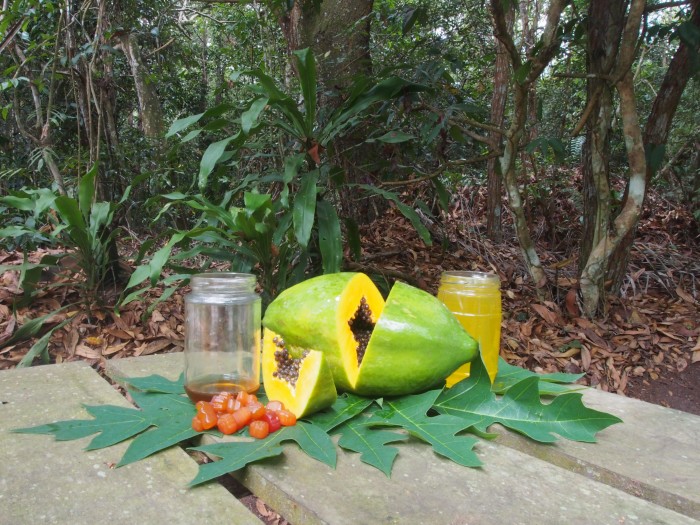 Refreshing Watermelon
Lime juice
Watermelon cut into small pieces
Honey
Kalakai leaves (orangutan version)
Papaya Bliss
Orange juice
Papaya cut into small pieces
Honey
Gummy vitamins (used in the orangutan version and optional)
Banana Rama
Milk
Bananas cut into small pieces
Fern tops (orangutan version)
Chocolate chips**
NOTE: Every orangutans' taste differs. Feel free to mix and match amounts of these ingredients to suit your taste.
All you will need are the ingredients, an ice tray or popsicle tray, and a freezer.
Simply pop the fruit and other ingredients into the tray, pour the liquid, and place into the freezer until frozen.
We have provided the orangutan and human recipes combined, so don't worry you don't have to add leaves to the popsicles… unless you want to, of course!
**Please note that we do not provide chocolate to the orangutans and the chocolate chips included in the Popsicle recipe are human-only treats.