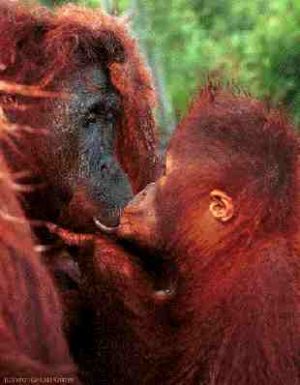 Tut, who is in her late 20's is the biological mother of five-year-old Terry (pictured) and a handsome fifteen year old male named Tom, who can be seen roaming the trees in Camp Leakey. It is thought that Tom may one day take over the dominant male role from Kusasi.
A lucky visitor to Camp Leakey will probably be greeted at their boat by Tut and Terry who spend much of their time on the boardwalk that connects the Sekonyer River, over the swamp lands, into Camp. Here the two play, eat and rest.
Tut is also the adopted mother of orphan Nancy. Nancy was brought to Camp Leakey as a small infant by Nancy Smith, a Swiss missionary who had traveled a great distance to bring her to Dr. Galdikas. Tut lovingly took her in and raised her as her own child.
Tut, herself an orphan, was torn from the arms of her mom after poachers had killed her. Tut is one of many orphans raised at Camp Leakey now living free in and around the forest of Tanjung Puting. Tut was named after Siti "Tutut" the eldest daughter of ex-Indonesian president Suharto."