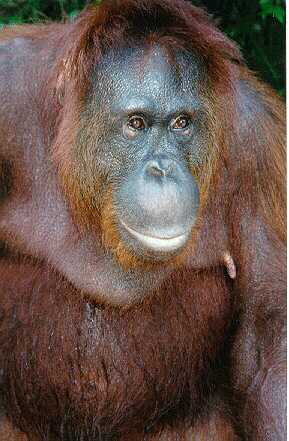 Siswi, OFI's Orangutan of the Month, is indeed an amazing orangutan. First, she has the distinction of being the first orangutan born to an excaptive at historic Camp Leakey. Second, she almost died and is alive today through the efforts of veterinarians, tireless caregivers, and a strong will to live.
Siswi was born September 9, 1978, to Siswoyo, another memorable orangutan. On that morning, a tired Siswoyo left the afterbirth beneath a tree (in which she probably gave birth) and ascended the 200 meter boardwalk to head to Camp. Siswoyo allowed her baby to be examined while she (Siswoyo) was provisioned with rice, fruit and milk. Siswi became a popular addition to the Camp Leakey population.
Siswoyo was a good mother, and Siswi grew normally. She became one of the Camp Leakey's most popular orangutans to visitors and researchers alike. Siswi also inherited her mother's mantle of dominance over the other orangutans in Camp. It was not uncommon to see much older orangutans give Siswi wide bearth as she strutted down the boardwalk or when she approached a feeding station.
Siswi suffered from a perforated intestine a couple of years ago. A surgical veterinarian was flown in from Singapore who removed a small length of her intestine. While her prognosis was not good following surgery, Siswi was able to recover due to her strong will to live and the intense care given by the Care Center staff.