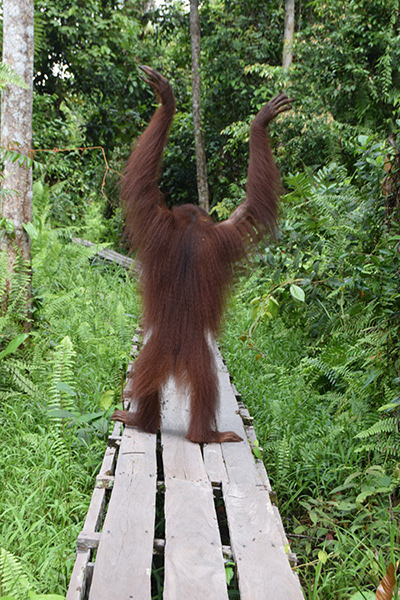 There are many sides to an orangutan's personality with some characteristics and personality types more prominent then others.
There are shy orangutans, adventurous orangutans, and placid orangutans. With some orangutans it's hard to pinpoint one "type" at all as these orangutans may have many defining traits. Tunas is one of these. She seems to demonstrate numerous traits within a single day of activity.
Meet Tunas and Sus: the Thelma and Louise of the Orangutan Care Center and Quarantine (OCCQ). Both Tunas and Sus are housed at Pondok Medang and make for an interesting double act. On the morning before day release, Sus is flicking the locks of her sleeping  enclosure eager to get out. Meanwhile Tunas reclines on her sleeping platform with her hands behind her head patiently waiting. Soon enough they shall reverse positions and Tunas will spring up and shake the door while Sus takes a break. It's as if they are a tag team.
Sus is a typical looking female adolescent orangutan with thick luscious hair and heart melting face. Tunas, on the other hand, is a well-developed lanky adolescent with arms to match. Her face, in particular, makes her stand out from the crowd. A long angular face gives her an air of wisdom beyond her years.
As time to go out into the forest comes closer, excitement builds for both of them. Pregnant clouds roll overhead threatening to pop at any moment. Tunas looks up, willing them to hold off. It's her time to go out and it won't be ruined by rain. The moment comes and the door that they have both been assaulting finally opens. As the two "girls" are adolescent females, they can't be let out with males their own age who will harass them. Thus, male and female adolescents are let out into the forest on alternative days. Today caregivers lead Tunas and Sus into the forest. The duo split and go their separate ways. Tunas immediately climbs up into the trees. She chooses them well; she has memorised which trees hold the most delights. Small yellow flowers fall from the tree she occupies. The Dayak people call them "ketiau". The flowers taste sweet like honey. Indonesians (including orangutans) have a sweet tooth so they provide a welcome distraction. When in season, ketiau flowers are a major food source for wild orangutans.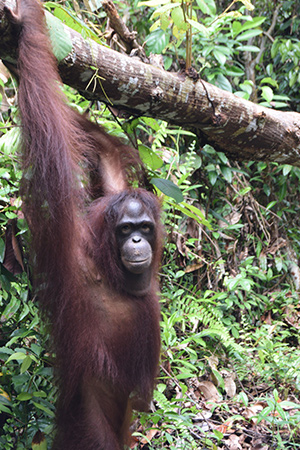 Tunas's name in Indonesian translates as either "bud," "sprout," or "shoot." The fact that Tunas is seeking out these budding flowers seems appropriate. Tunas sits high up in the forest making rain her own way: as yellow flowers and pollen falling down.
Sus and the other orangutans move off deeper into the forest but Tunas has settled in. Now that she is in the trees, there is no need to rush. She has no problem sitting here. When an orangutan in the wild finds a tree with an abundant food source, for example a fig tree, he or she wouldn't be in a hurry to leave either. So why would Tunas? If an orangutan were eating bark from a tree, we would suspect that the bark is a food of last resort because there is nothing else around. Luckily Tunas doesn't have this problem today.
Tunas has demonstrated her head for heights but once she comes down and is feeling relaxed. Tunas actually walks bipedally.  She adopts a leisurely pace boondoggling along the boardwalk. Some orangutans navigate in trees bipedally, walking along branches holding onto other overhead branches to get around in the canopy but Tunas is on the ground.  On the island of Sumatra there is a legend of a short Bigfoot-like creature "Orang Pendek" covered in orange hair and ground dwelling in the forest. Seeing Tunas standing like this, she could almost be this legendary creature.
Tunas reaches out and grabs leaves from overhanging trees. The leaves have a variety of uses for her. She fans herself if she is feeling a little flushed or she puts them in a semi-neat pile in front of her. She stacks them up and gives them a pat on top pressing them together like the pages of a well-read book. This shows her nest making skills are still in good order. She then picks the pile of leaves up and takes them with her.
Here we really see the difference in orangutan personality. Tunas and Sus have such contrasting temperaments. While Sus moves nervously and can't quite relax, Tunas runs the gamut of emotions quickly getting over one feeling and then moving onto the next. Tunas doesn't dwell on things too long.
Tunas is also equally happy to engage with the other female orangutans she comes across in the forest. For instance, there is young female Caca (pronounced ChaCha). Tunas and Caca can be observed hanging from opposing vines and swinging around like a trapeze act. Tunas and Caca pass back and forth, grabbing at one another and moving past each other as if trying to catch each other's scent on the wind.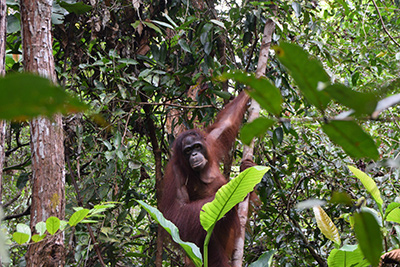 After a particularly rainy week the OFI Learning Forest is full of swamp water ponds and muddy sink holes. Tunas leaves the boardwalk behind and makes her way through the muddy pools finding all the right spots, branches, and roots to keep her from getting dirty. She knows what she is doing as she crosses this reverse minefield where hitting the mines (roots) is the object. People, however, have to take the long way "home.". Using their machetes, caregivers cut through ferns to make a path to keep up with Tunas. When they finally catch up to her, she is back up in the canopy. "Tidak mau turun,"is common to hear around Tunas. In Indonesian this basically means that she doesn't want to come down.
Like a person you can't always tell what mood Tunas is going to be in or what she is thinking. Unlike a person, you can't really ask her and expect an answer. She is her own fully rounded individual, imbued with her own special spark. Sometimes she wants to let it shine bright and at other times, she prefers to save it for a non-rainy day.
Tunas is a bud that is in the process of blossoming. Those flowers that bloom the brightest and largest often have had to weather the most potent and terrifying storms. After being orphaned at a young age, Tunas has weathered her fair share of storms and rainy days and has survived. She is now highly capable, spontaneous, and full of life. In short, Tunas is a perfect example of how an orangutan can be.