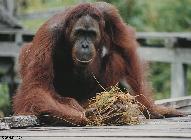 Tom is a handsome and muscular sub-adult male living in Tanjung Puting. He is the son of an ex-captive called Tutut. He is inquisitive and can often be seen on the jetty at Camp Leakey studying arriving kelotoks.
When we visited, he kept a good distance away from our kelotok almost all the time. We also met Princess, her daughter Peta and son Pan. All of the orangutans in this group were entirely comfortable with each other and Tom, although far larger and stronger, played gently with both youngsters.
We observed Tom wading in the river, pulling long shoots from plants and eating their bases. After he'd had enough of that, he climbed back onto the jetty with a large clump of wet grass. Staring at us intently, he lifted it above his head and dropped it onto his shoulders! We can only think that he was trying to cool himself down in the oppressive heat!

When we left the kelotok to walk up the long jetty to the camp, we turned to see what Tom would do. When he was sure that we were far enough away and that there was no one around he crept over to the kelotok! However, we'd left one person on the boat who raised the alarm before Tom could get up to any mischief!
It is entirely feasible that Tom could one day take over the role that Kusasi currently has and become the dominant male around Camp Leakey.