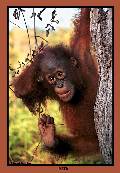 Shortly after Dr. Birute Galdikas won the 1990 Humanitarian Award from the animal rights group, People for the Ethical Treatment of Animals (PETA), Princess gave birth to her second child. In honor of the award, Dr. Birute called the newborn "PETA".
Peta's facial features very much resembles that of her beautiful mother but her personality is much shyer. According to Dr. Galdikas, she is not as outgoing and doesn't interact with humans like her mom does. This may very well be a good thing, as offspring of ex-captives begin living on their own, further into the forest.
Peta spends more and more of her time exploring the rain forest on the outskirts of Camp Leaky and carving out a life for herself. On occasion she will return to Camp to visit her mom, Princess and younger brother Pan.