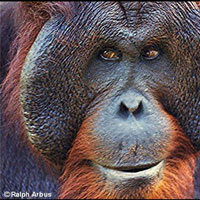 Kusasi has been a resident of the Camp Leakey area for over 10 years. He came as an ex-captive youngster and has grown to be a handsome cheekpadded adult. He is the dominant male in the Camp Leakey area and has fathered a number of infants due to successful consortships with the adult females in and around Camp. Kusasi is best know for his seemingly placid demeanor around people. Visitors to Camp Leakey are likely to see Kusasi as he rumbles the trails near the dining hall or in the trees away from Camp. One should respect his immense strength and not get too close to him as he usually gets his way if he grabs you.
Story by Sharon and Marty Kimmel…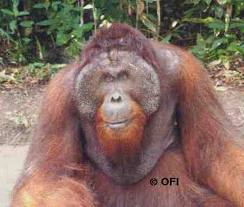 "Although it looks like Kusasi is leading the way to the river in the top right photo, he actually is holding up the staff from the Cook's House. They were on their to way to bath in the Sekonyer at the end of a long day, when they came across Kusasi blocking their way. Not wanting to walk past him, it took them almost 20 minutes to get just 100 feet. Kusasi stopped and sat down, looked back at them, dangled his feet over the boards and then got up went a few more feet, only to sit down again. Marty and I, who were already in front of him, just tried to stay out of his way. Earlier in the week, we watched Kusasi chase Tom away from a feeding station. We did not want to mess with Kusasi."
Note to past visitors to Camp Leakey: Please e-mail us your Kusasi stories to post here.