When I first arrived at the Orangutan Care Center and Quarantine more than six months ago, Kino was one of the first orangutans I met.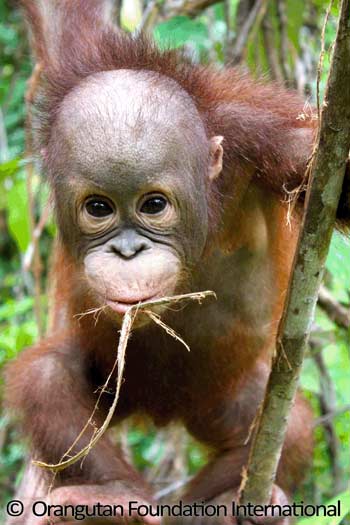 Like me, he was a newcomer to the orangutan orphanage. His body was riddled with bullet casings and noticeably devoid of hair, evidence of the trauma he had undoubtedly already experienced. Like all orangutans who arrived at the Care Center, Kino was an orphan, his mother killed before his eyes. We did not know the details of Kino's past only that he was clearly still adjusting to life without the constant companionship of his mother. He was shy and shaken, uncertain of the safety of his new surroundings.
During the first moment of meeting Kino, he stared up at me with big dark moist eyes and a pouty, earnest expression. One eye was slightly marked from a pellet wound. Without the signature long red hair of most orangutans, he stood apart from the many other youngsters at the Care Center. Kino had a gentleness about him that was immediately captivating. I had a feeling (and a hope) that we would become friends but Kino remained fairly wary of people. Whenever a caregiver would reach for his hand to lead him to the OFI nursery playground, Kino would flee in fear.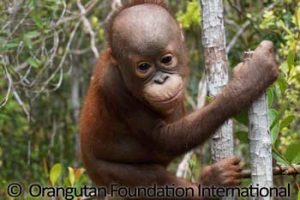 Despite Kino's nervousness, everyone was drawn to him. He has a sort of sad, "puppy-dog" charm reminiscent of Eyore from Winnie the Pooh. His big, droopy eyes and small, pudgy frame endeared him to many. In only a couple weeks he had gained several admirers, both human and orangutan. Everyone wanted to be around Kino. With his new found popularity, Kino seemed to slowly grow more comfortable in his new home at the Care Center.
A new home meant new friends and Kino was making friends in a fast and furious fashion. He was now constantly engaged in play with one or more orangutans. Sometimes newcomers are initially picked on by the others but Kino seemed to ease right into a social group. I watched as his nervousness began to fade during his daily releases to the nursery playground. Little by little he ventured further away from the playground and followed the larger orangutans into the surrounding Enrichment Forest. I worried about his safety, as the older orangutans can play quite rough with each other and Kino was still very small and young. I made a point to follow him whenever he scampered off into the forest. To my surprise, Kino did not need looking after! He was fully engaged in play with orangutans years older and considerably larger than him. They seemed keenly aware of his age and never played too rough with him. They watched over him like protective babysitters. The moment I observed Kino climb a tall tree with an older orangutan helping him as he climbed, I knew Kino was safe!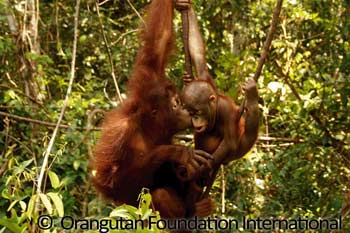 Kino's independence continued to grow. Making friends now came easily to him. In time he became eager to play with his caregivers. When I, or an OCCQ staff member, now reach for his hand, he happily follows along and even snuggles for an embrace. In the short seven months that he has lived at the Care Center, Kino has developed into a brave little boy who is not scared to test his limits. Kino always ventures into the taller, more daunting parts of the forest where many other orangutans his age
would be too frightened to go alone. He instigates play wrestling matches with his friends but he never starts fights. He has a bright mind and infectious love for adventure.
Despite his young age, Kino showed incredible courage as he overcame his fear and quickly adapted to his new environment. His progress made a strong impression on me as an example of the resilient spirit of orangutans. If I had a favorite orangutan, he certainly would be one of them.