There are over three hundred orangutans at the Orangutan Foundation International's Care Center and Quarantine (OCCQ) in Pasir Panjang, Kalimantan, Indonesia. When it's time to choose an orangutan to profile each month for OFI's website, narrowing it down to just one can be overwhelming! Each and every orphan orangutan, big or small, is charismatic in his or her own way. Each one deserves a write-up.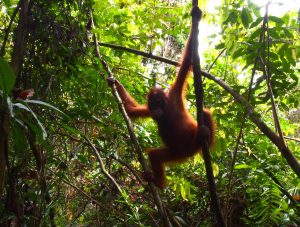 The timing was serendipitous when Nawi came into my life! I was asked to write an "Orangutan of the Month" profile so I followed the caregivers into the Care Center forest during the daily release of juvenile orangutans. I had planned to follow and observe a particular orangutan I already knew, but she took off into the forest at such a blistering pace that I quickly lost her amongst the trees. Returning to the forest boardwalk a bit disappointed, I found Nawi perched not far away in a tree, slowly making her way into the canopy. Her grace, as she moved, could not be ignored. While some orangutans fly between branches, Nawi gently swung her way through the trees, carefully testing each branch before putting her weight on it. I sat down and watched her. As she gradually made her way higher into the canopy, stopping momentarily to forage for leaves, I suddenly realized that Nawi was the orangutan that I wanted to profile as "Orangutan of the Month".
There was only one problem! Nawi wasn't so keen about becoming the new Care Center star. Each time I followed her on daily release, Nawi became more and more determined to shake me off! Yet, the more resolute Nawi became about thwarting my efforts to observe her, the more determined I became to shine a light on her!
During her time in the forest, Nawi wants nothing more than to do her "own thing". Her independent spirit and stubborn self-sufficiency are especially endearing. During daily releases some orangutans stay as close to their caregivers as they can, trying to steal hats and food and generally causing mischief. But not Nawi! Although she stays within visual range of her caregivers, it's obvious she very much savors her time alone to explore the forest. She likes the freedom of being able to go where she pleases and is constantly on the move. Nawi takes the time occasionally to build a nest in the trees, but she won't get too comfortable in it. She'll kick back and relax for no more than a brief siesta before she's up and out, continuing on her way.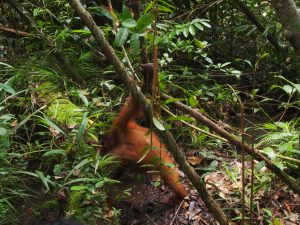 Just like humans, each and every orangutan's facial expressions and mannerisms are uniquely personal. While some orangutans seem to be constantly smiling and others seem to have more thoughtful expressions on their faces, Nawi always has a look of somber concentration on her face – but don't mistake it for anger! It is simply that she takes her forest releases very seriously. She is focused on one thing and one thing only: making the most of her time in the forest. She might be quite small for her age, but she has a very long arm span, perfect for hanging onto branches and swinging across large distances, which she does with agility and grace.
It's not just human interlopers that myself that Nawi prefers to avoid. She dodges other orangutans, too. I watched another juvenile female orangutan, Glenda, immediately follow Nawi up a tree as soon as they entered the forest. When Nawi moved away, Glenda followed her up and down the tree and round-about the forest, as if in hot pursuit. Glenda was not aggressive but Nawi seemed somewhat resentful at not being able to be alone in the forest. After all, Nawi has plenty of company in the evenings as she shares her sleeping enclosure with four other juvenile orangutan females. But in the forest Nawi seems to be seeking her own space and freedom, just like any pre-adolescent would.
While Nawi is, in many ways, a lone ranger, she still has the attributes of her fellow youngsters. Despite the fact that this is now the dry reason, there are still puddles of water in the swamps. Nawi, like most orangutan youngsters, seems to seek out these water and mud puddles to splash in and to investigate and cover herself in a bit of mud! In this, she is not always alone.
Nawi might crave some solitude in the forest but she is by no means anti-social. She gets along well with her friends and "bunk buddies" Desi, Rebecca, Irene and Dandina. Often on release while Nawi is focused on exploring the forest, she does not mind the presence of one of her friends such as Irene. Wherever Nawi goes, Irene is often not far behind. Irene will take up a vacated tree or branch as soon as Nawi moves along and she keeps a close eye on what Nawi is eating, choosing similar leaves to sample. Nawi and Irene may not appear to be closely interacting, but their game of "follow-the-leader" is a behavior sometimes seen with orangutan adolescents in the wild.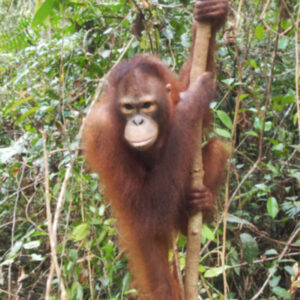 Despite Nawi's need for solitude during her daily explorations, when it is time to go back to her sleeping enclosure, Nawi does not take flight like some of the other orangutans. Instead, she will easily come back to one of her caregiver to hitch a ride. During the time that she spends in her sleeping enclosure, Nawi can often be found lying back relaxing in a circular blue barrel fixed high up in the enclosure. Her laid-back attitude in the evenings makes it easy to imagine her on a tropical beach, swinging in a hammock, drinking from a coconut.
Not overly mischievous or outgoing like some of the other orangutans, Nawi blends in with the large cohort of juvenile females at the Care Centre. Yet she stands out from the crowd with her insistence on making the most of her time in the forest. It was a privilege to sit and watch Nawi forage, once she got used to my presence, and an honor to learn about the forest from her. A little camera shy, with a serious expression, Nawi might not have been overly welcoming to being watched but that only added to her charm! So here is to enigmatic Nawi, the reluctant star of this month's "Orangutan of the Month".