Habitat conservation is a vital aspect of any wildlife conservation program. This is for the simple reason that without habitat, there would be no wildlife. Without a safe and protected environment, rehabilitated animal releases would simply not be possible. Unfortunately, this aspect of conservation is extremely difficult in a country where wildlife habitat disappears by the minute.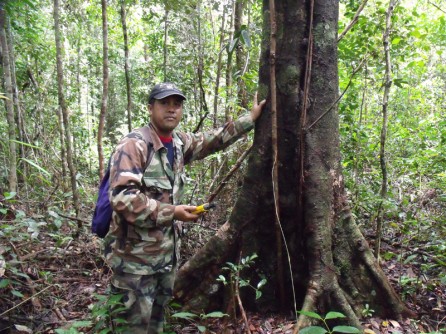 Orangutan Foundation International (OFI) takes a multifaceted approach to conserving orangutan habitat. One of the most effective ways that OFI does this is to purchase land privately. Unfortunately, this is an expensive solution, as most such solutions are.
Finding and purchasing suitable forested land for conservation and for the future release of rehabilitated orangutans is a long and difficult process. Although Borneo was once the poster child for wild islands with lush and undisturbed forests, it now faces one of the highest rates of deforestation of anywhere in the world. Millions of hectares of forest have already been cleared or are set to be logged for timber and/or conversion to palm oil plantations. Luckily, however, there are local landowners who would rather see the natural beauty of their surroundings kept intact than destroyed. When some of these owners feel that they need to sell their land, they come to OFI rather than going to palm oil companies.
Before OFI purchases available land, surveys are done. It is rare that locally owned land has already been mapped, so the first step in these surveys is to map the borders. Walking the borders with a local guide, while keeping track on a GPS system, provides information on the actual size of the land. Walking the borders also gives a good impression of the general quality of the forest and its surroundings.
After mapping is completed, surveys are done to document the vegetation. This information indicates the presence of fruit trees and the nature of the forest. If wild orangutans already inhabit the forest, it is also important to know approximately how many there are. The results of these surveys give insight into the overall value of the forest as orangutan habitat and also make it possible to create a plan to conserve existing wild animal populations, including orangutans, and to introduce a limited number of ex-captive orangutans into the forest.
When the information gathered from these surveys shows that the forested land for sale has the potential to shelter a substantial number of orangutans, the long and difficult price negotiations begin. Because OFI is often competing against large palm oil companies, buying large areas of forest costs a small fortune. Therefore, OFI warmly welcomes donations for the special purpose of purchasing land.
Recently an extended local family offered to sell a 3,000-hectare piece of peat swamp forest to OFI. In order to make an educated decision on whether this land is potential orangutan habitat, mapping and surveys are currently in progress. The manager of OFI's Orangutan Care Center and Quarantine, Pak Tamel, has completed the initial mapping of the land's borders. There, he spotted wild orangutans as well as several orangutan nests. This indicates that this land could potentially be a future safe haven for both wild and ex-captive orangutans.
Tropical peat swamp forest is the best habitat for wild orangutans. In Borneo orangutan population densities as high as 3 individuals per square kilometer have been recorded in these forests. In addition, peat swamp forest sequesters massive amounts of carbon and prevents it from entering the atmosphere. It is the burning of tropical peat swamp forests that has caused Indonesia's carbon emissions to be the third largest in the world.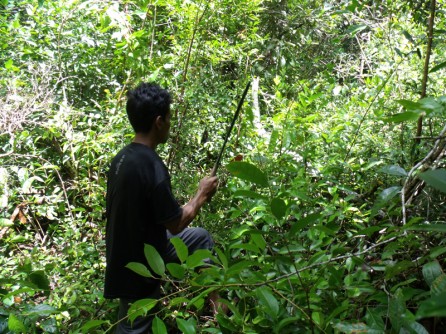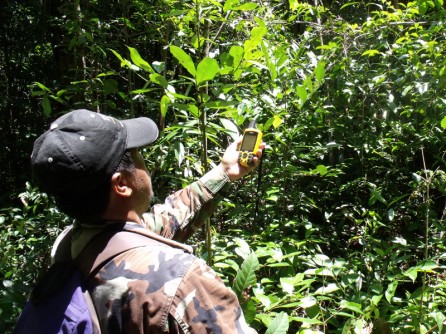 For more photos from Pak Tamel's visit to the area, check out OFI's facebook page: www.facebook.com