President Jokowi and his wife, Ibu Iriana, arrived in Pangkalan Bun early in December 2014 after much speculation and excitement.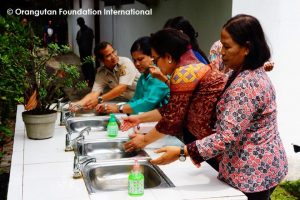 While President Jokowi visited palm oil plantations in Kalimantan Tengah, the First Lady along with the wives of other top Indonesian officials visited OFI's Orangutan Care Center and Quarantine (OCCQ).
Upon arrival, the First Lady and the guests accompanying her were quick to follow OCCQ policy and wash their hands before seeing the orangutans. The Care Center and Quarantine are focused on rehabilitating ex-captive and orphaned orangutans to be returned to the wild. Ibu Iriana and those accompanying her toured the on-site veterinary facilities where orangutans are examined on arrival and treated for wounds or sickness.
In addition, the First Lady visited the infant nursery playground where some of the youngest orangutans at the Care Center were spending the day on their daily release. The youngest orangutans learn climbing and other skills at the infant nursery playground and explore the forest in the vicinity with their caregivers' support and encouragement. Ibu Iriana was introduced to the amiable young orangutans at the playground and spent time personally interacting with one of the infants.
Soon after the First Lady's departure, the Care Center received a phone call that President Jokowi and the First Lady were extremely impressed with the facilities and enamored of the orangutans there. In their honor OFI will name two orangutans after the President and the First Lady.