World Education (WE) was established more than fifty years ago to improve the lives of the disadvantaged through social and economic programs. These programs include agricultural training, environmental education, community development, and integrated literacy. World Education's international work is designed to contribute to individual growth as well as to community and national development.
OFI's partnership with WE began in October 2003 as part of its Tanjung Puting National Park forest protection program though a grant from United States Agency for International Development (USAID). OFI needed a partner with expertise in sustainable agriculture along with an effective extension approach. By implementing a sustainable agriculture program in the communities inside and surrounding TPNP, we felt we could reduce the amount of land needed to meet locals' farming needs. Reducing the area of new land needed for agriculture in turn reduces the pressure on the forest.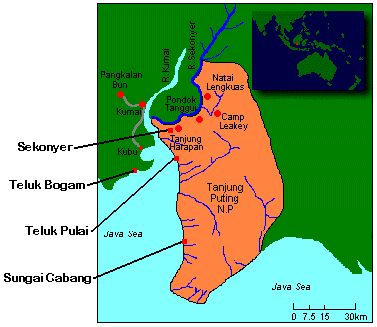 Today, villages inside and surrounding TPNP continue to extract resources from the park, from trees and turtles to fish and monkeys. World Education is offering these villages training and technical assistance so that they can establish more productive and ecologically sound agriculture and agroforesty practices. The end goal is to help farmers achieve food security and increase income generation which will in turn reduce the amount of resources they are extracting from the park.
World Education uses an integrated conservation and development approach which combines livelihood development with community participation. The project started with a training needs assessment that was conducted in seven villages. The analysis of the assessment data pointed to several issues that needed to be addressed including:
Individuals living in Teluk Pulai and Sungai Cabang, and villages inside the park, are unclear of the park boundaries.
The Sekonyer River remains polluted from the gold mining runoff upstream.
Many villagers from Kumai, Kubu, Sungai Bakau, and Teluk Bogam have moved to TPNP to farm rice, mainly around Sungai Lulut.
The rice crop production levels for each family are generally not sufficient to provide for their yearly needs. Vegetables are brought into the villages from other areas.
Villagers need technical training for food and tree crops as well as assistance with poultry and fish farming.
There is limited access to agricultural assistance from the government.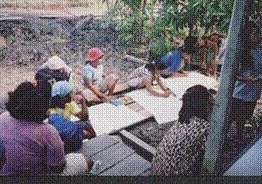 The entry point for World Education's approach to integrated conservation and development is the Farm Field School (FFS). This program incorporates non-formal education and experiential learning techniques into agricultural training. In each village, a WE staff member is working with the community to develop an experimental learning field where farmers prepare, plant, maintain, and monitor a crop throughout its season/lifecycle. Activities include observing the field and recording and analyzing data which is combined with instruction in the field or a meeting place. The experimental learning fields serve as the "textbook" for the course. Through the observations along with guided reflection during meetings, farmers develop new skill sets and learn how to experiment and think more critically about the environment and agriculture. The end result is that they learn how to grow more productive crops while ensuring a healthier ecosystem.
In the villages in which WE works, a staff member lives and works with community members so that the program is customized for the needs of each village. Through the needs assessment it was discovered that four of the villages: Sekonyer, Teluk Pulai, Sungai Bakau, and Sabuai, needed food crop Farmer Field Schools, especially for their rice crops. A first season rice Farmer Field School was held in the Sekyoner Village at the end of December 2003, using a section of land where rice had already been planted.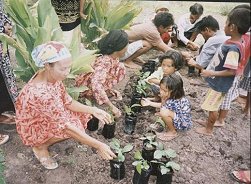 Participants in the Farmer Field School learn the techniques for determining which seed are good, and which are bad.
Fifteen villagers took part in the training. The rice plants they had planted ended up yellowing and the villagers were not satisfied with their growth. During their investigations, the students discovered that the germination level for the seeds which were donated was only about 53-58%. Technically these seeds should have never been planted, and in uncovering this information the students have learned how to choose the best seeds for planting. The seed testing techniques they have learned can also be applied to vegetable seeds. Students also learned about hybrid rice plant ecosystems and pests and natural predators as well as pest management techniques for insects such as rice bugs and rice stem borers.
The WE team also worked on assisting the villages in new techniques for harvesting the rice. Villages around TPNP usually harvest rice using "ani-ani" harvesting knives, which require more time and man power than other harvesting techniques.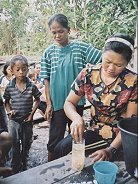 The next step was to try a new harvesting and threshing method. WE facilitated the training of 14 villagers from three different villages on a different rice harvesting technique, the use of a sickle and hand thresher. What the trainers discovered was that some villagers will not accept this harvest methodology due to cultural reasons. The local custom that has passed down from many generations is that the rice must be respected and treated in a very polite way. Harvesting rice with ani-ani knives is considered very polite while harvesting with sickles and pounding with hand threshers is considered very impolite. The harvesting technique has a profound effect on labor requirements. One hectare of rice takes one month to be harvested using the ani-ani knife and only four days to be harvested using a sickle and thresher.
Other types of agricultural training are occurring in the additional villages including vegetable cultivation and banana and coffee Farmer Field Schools. Students in Keraya Village have learned how to cultivate chilli plants and have used those techniques to plant other vegetables. Even though the students have unsuccessfully in the past tried to grow bananas, new plants have been growing well since February. In Sungai Cabang, villagers are learning techniques for growing mustard greens, water cabbage, and spinach. Unfortunately, the spinach and mustard greens were attacked by wild pigs and locust just before harvest. Through continued evaluation of the program, follow-up plans are being made. Sungai Cabang is also mastering coffee cultivation and the production of compost.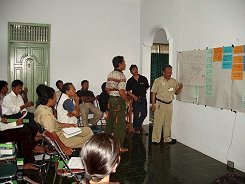 One of the most important objectives of the project is to strengthen the capacity of the local farmer leaders to facilitate community-based learning. To help facilitate the development of the farmers' leadership abilities, stakeholder meetings are being held. The last one held was on March 31, 2004, and eleven farmers representing seven villages attended as well as staff from Orangutan Foundation International, World Education, Friends of the National Park, and government officials from the Irrigation Sub-office of the Department of Public Works, Plantation Office, and the Rural Extension Centre. The group discussed ideas for farming development plans and based on the group's input, each village representative prioritized their plan for the future. Each representative will communicate these plans with their villages with the help of a WE Field Facilitator.
The village plans included:
Defining the TPNP borders
Constructing and repairing irrigation channels for rice cultivation
Gaining technical assistance for further agricultural development of food and tree crops as well as poultry and fish farming
Ensuring optimal community involvement in the program
World Education has already made a great impact on the local villages. Farmers can see results from their work on experimental learning fields. Over the next few months, WE staff will continue field agricultural training, facilitate further development and implementation of village plans, sharpen study requirements for poultry raising, and will visit the east side of TPNP to look at the possibility of expanding the program.
World Education's expertise is invaluable as we continue to develop and implement a comprehensive integrated conservation plan for Tanjung Puting National Park.