As a caregiver, Pak Ateng is part of a team responsible for rehabilitating the orphaned orangutans at OFI's Orangutan Care Center and Quarantine. Pak Ateng encourages the orangutans to develop important forest skills such as foraging, nest building, and climbing. The orangutans seem to respect his gentle nature and expansive knowledge of the forest. Yet what may impress these arboreal mammals most is his ability to climb trees. Using a local technique, Pak Ateng can rapidly scale branchless tree trunks by pulling his body up with his arms and using his legs to give him leverage. He fearlessly climbs 30-foot trees; it's part of his job. If, at the end of the afternoon, an orangutan is reluctant to return to his/hersleeping enclosure, Pak Ateng must ascend the trees and tempt him/her down.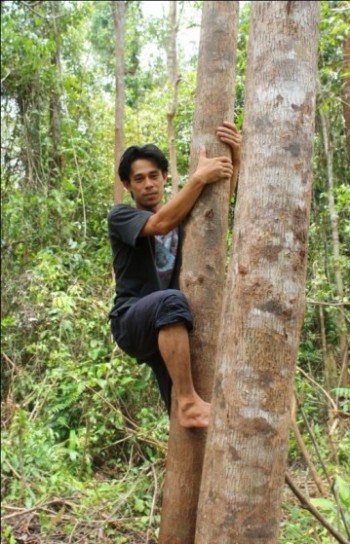 The OFI Care Center is divided into seven small facilities in addition to the main clinic and a quarantine area. Each facility houses between 25 and 40 orangutans and is staffed with caregivers who feed, clean, and supervise the orangutans when they are released during the day. The orangutans' time in the forest is the most important form of enrichment they receive during their stay at the OFI Care Center. In the forest, they learn important skills such as building nests and foraging for food. The orangutans can only be considered for release once they have mastered these skills. Therefore Pak Ateng's role in the process of rehabilitation is imperative. He must ensure that the orangutans develop these abilities and behave appropriately with their fellows in the forest.
When it is time for the orangutans to return to their sleeping enclosures at the end of the day, Pak Ateng must tempt them back out of the forest. Some of the orangutans cooperate and are easily persuaded to return. Others, however, disappear into the far corners of the forest and Pak Ateng must trek through the swamps and climb the trees in order to locate them. Since few caregivers at the Care Center as quite as adept at climbing trees, Pak Ateng is often asked by other caregivers to help locate wayfaring orangutans from neighboring facilities. His talent for climbing trees proved very useful for a botanist who recently volunteered at the Care Center; Pak Ateng was able to collect hard to reach samples for a herbarium being constructed by OFI. Flowering plants growing high in the canopy were no obstacle for Pak Ateng, who promptly scaled the trees to bring back the leaves, flowers and fruits.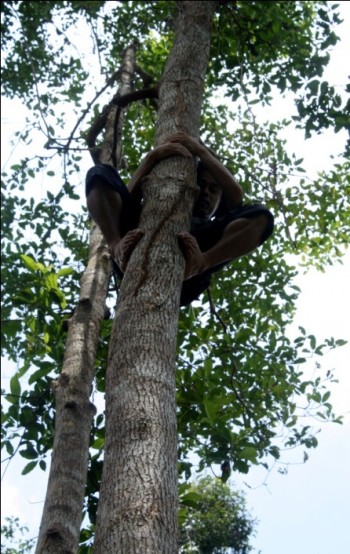 Once a month, Pak Ateng helps weigh the orangutans in the Care Center. This involves standing on a scale with an orangutan on his back. Often Pak Ateng will weigh some of the bigger orangutans in the Center, such as subadult male Ricky, who weighs 34.5 kilos. Ricky recently arrived from Java after being kept as a pet. Ricky, bewildered by his first time going through the weighing process, decided to bite Pak Ateng on his lower back. Yet Pak Ateng, unperturbed, shrugged off the incident and still continues to weigh the orangutans.
Pak Ateng has shown a keen interest in the weight of the orangutans in other ways. An extra meal of bubur (a porridge made of mung beans) is now provided to underweight orangutans around the Care Center. Pak Ateng has been very supportive of the project, and not only helps to feed three skinny orangutans in his facility, but also consistently checks their weights. He is concerned about the welfare of all the orangutans in his facility, and even suggested that "Cowie" should be given extra food since dominant orangutans in his enclosure sometimes took his share of a meal. Without Pak Ateng's keen eye, Cowie would not have been introduced to the bubur program. Thankfully, Cowie is now rapidly gaining weight.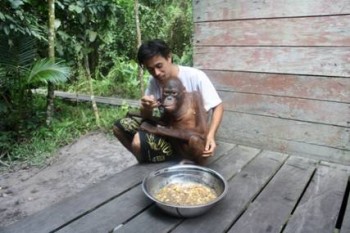 Pak Ateng is personable and immediately likeable. His passion for the orangutans is obvious. When I asked him what he enjoyed about the Care Center he immediately replied "I enjoy working with the orangutans; they make me happy," later adding that he loves all the orangutans in his pondok equally. However, I later managed to pry out a confession that he had a secret fondness for Violet. He has known her for several years and they have developed a strong bond. Pak Ateng has a charismatic laugh that infectiously spreads throughout the facility where he works. However, he also has a shy side. For photographs, he wanted his fellow co-workers to be included.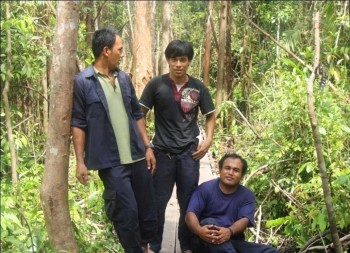 Along with many other villagers in Pasir Panjang, Pak Ateng doesn't know exactly how old he is. He also cannot remember how long he has worked for OFI, but it has certainly been "a long time." In that time he has watched the orangutans in his facility grow and change. Without the dedicated supervision of caregivers such as Pak Ateng, the rehabilitation process would be a difficult one. Thanks to his skills, his intimate knowledge of the forest, and passion, in the future perhaps Pak Ateng will see more orangutans from his facility successfully return to the rain forests of Borneo.