Dear Friends of OFI,
The crisis face orangutans and forests in Borneo is getting worse.
As a long-time supporter and friend, we urgently ask for your help to prevent the further annihilation of wild orangutan populations and Indonesian forests by wildlife traffickers, poachers, and illegal loggers.
As forests in Borneo are being increasingly ravaged by industrial pulp and paper timber estates, palm oil plantations, and human population growth, conflicts between people and native wildlife have escalated.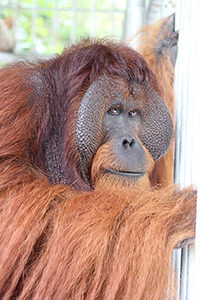 The destruction of pristine primary rainforests has led to the devastation of wild orangutan populations, and likely loss of species yet to be discovered amongst the fauna and flora of the richly biodiverse ecosystems of Indonesian Borneo.
In addition to these numerous threats, each day, native wildlife populations face losses due to poaching, starvation from lack of wild food resources, and being stolen and trafficked into the illegal pet trade. This is not solely an orangutan issue. As a supporter, you
know about the increasing number of rescued Malaysian Sun bears, gibbons, and monkeys that had been destined for life in a cage and that OFI has helped rescue.
The drive for economic well being and the increasing efficiency of transportation and communication networks has led to people participating or looking the other way when it comes to wildlife tracking. Wealthy people in places like Russia and China may pay traffickers larges sums to steal wildlife from their homes in Indonesia for entertainment, backyard zoos, as pets or to use their body parts for medicine.
Wildlife trafficking also leads to the theft of other natural forest resources (such as valuable wood used in incense in the Middle East). Whatever the traffickers can get, they will take.
We urgently ask for your support now to stop wildlife trafficking of orangutans and native wildlife in Borneo
Since 2016 OFI has faced the return of large numbers of poachers and traffickers into the forest of Tanjung Puting National Park. Poachers and traffickers not only target orangutans, but also songbirds, sun bears, and other primates. Thanks to supporters like you, we have been able to increase our patrols inside and outside the park. However, we must be more proactive than reactive to stop this threat and prevent it from escalating further. That is why I am reaching out with this urgent appeal.
No one should ever face the trauma of what these intelligent, sentient apes have experienced at such a young age. Sometimes it takes years for traumatized individuals to recover. We recently released an orangutan OFI rescued years ago. It took her over ten years to recover physically and mentally from the trauma inflicted on her as an orphan whose mother was killed and who was then abandoned for a month without food, chained to the underside of a building dependent on the kindness of a passer-by to survive. Due to OFI's efforts, she is now back in the wild and doing fine.
We need your help to prevent wildlife trafficking and save orangutans and other native Bornean wildlife from the illegal pet trade. Donate now to help us protect wildlife and educate local populations on the dangers of wildlife trafficking and the importance of keeping Bornean forests wild.
Last year we established a successful educational pilot program in our regency of Kotawaringin Barat to educate local youth and teach them to channel local pride into a sense of responsibility for orangutans and forests. Our success has given us hope that with increased educational funding, in addition to protecting and patrolling the forests, OFI can take this message to reach more schools throughout Indonesian Borneo and create local allies to stop the spread of wildlife trafficking. Borneo's precious wildlife residents need and deserve a brighter future than the one facing them now.
With your generous past support, OFI has rescued hundreds of orangutans, and more recently dozens of native animals such as Malaysian sun bears. I am asking you to help us work toward a future where the illegal pet trade ends and wild animals no longer need to be rescued from traffickers.
We need your help now to preserve wild orangutans and other wildlife in Borneo!
With deep and abiding gratitude,
Dr. Biruté Mary Galdikas
OFI President