Skinny orangutans fattened on rich porridge.
Every morning for the past month, Catarina Antão has been busy supplementing diets for sixteen underweight orangutans by providing them with "bubur" (porridge). A recently qualified veterinarian from Portugal, she volunteered at the Care Center for six weeks and was interested in improving the diet of the orangutans, especially the underweight ones. Facilitating weight gain is important for a number of reasons. Low body weight could weaken orangutan immune systems and make them susceptible to illness. She discovered that some were losing weight simply because they seemed to have a fussy palate and grew bored of their diet. These individuals often refused to eat the same kind of porridge two days running! Clearly, variety in the diet is often important for orangutans. Dr. Catarina decided that the ingredients in the porridge should be rotated daily.
Many underweight orangutans were also of a timid nature and were perhaps reluctant to consume their fair share. Therefore, an important aspect of the program included feeding the underweight orangutans individually, separately from their sleeping-cage buddies. We needed to regularly visit the 9 female and 7 male underweight orangutans to make sure that they were getting a variety of food. Many orangutans have gained weight since the program started, and encouragingly, none have lost any weight.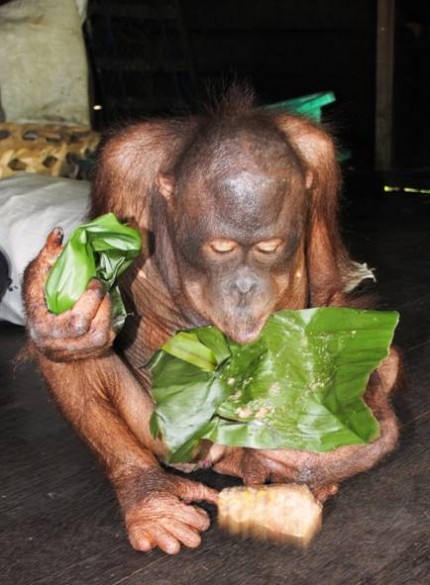 Two cooks, Ibu Rais and Ibu Milah helped Catarina prepare the porridge, and then Mr Henson and sometimes Mrs Yeti helped her to distribute it across the center. The mung beans were boiled in a steel pan over the fire. The brown stew often gurgled for over an hour as Ibu Milah unfalteringly stirred with her wooden ladle as we waited for the beans to cook. Different ingredients were added to the porridge daily in order to ensure variety, such as pumpkin, peanuts or coconut. The calories of each ingredient were also carefully monitored. Once the porridge was cooked, it was lovingly wrapped and sealed into banana leaves for ease of transport. These banana leaf parcels also provided enrichment, since the orangutans were able to control what they ate by picking and examining the food, which they seemed to enjoy.
Since the porridge project was introduced, one orangutan, Gordon, has improved fantastically and has gained half a kilo in weight in one month. He has also shown an increased appetite, since often, after finishing his porridge, he would sneakily gorge on vegetables set aside for human dinners in the kitchen!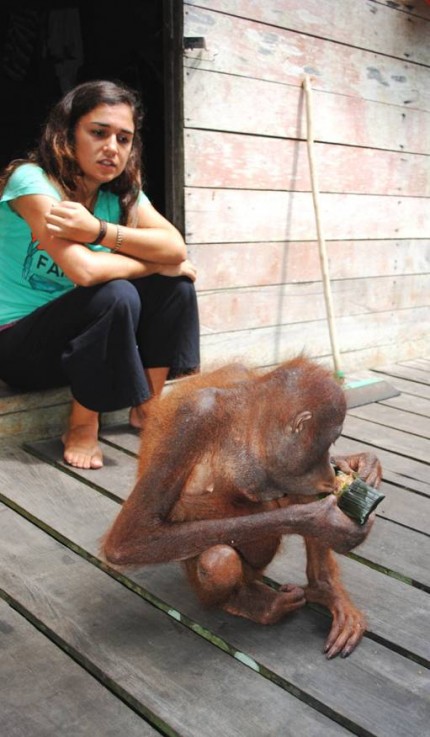 Waliyati has also grown two kilos since December! Waliyati shares a pen with a much larger and more dominant orangutan called Hermes, who often took food from Waliyati's mouth. Therefore, we needed to ensure that Hermes was distracted to give Waliyati time to consume her food without Hermes stealing it all. Waliyati was also very picky and enjoyed smelling, poking, and examining the food before attempting a mouthful. She was also easily bored and refused to eat the same porridge two days in a row.
Xena and Jonathan are perhaps the pickiest eaters of the gang. This pair particularly enjoys examining their food, and carefully picking it from the banana leaves. Consequently, it is not surprising that they are exceptionally slow eaters! Xena has remained the same weight since porridge was introduced, and Jonathan, although he initially put on weight, has started to lose it, so we will keep thinking up new recipes for the porridge. However, since their weights were measured last month, both orangutans seem to have changed for the better, seemingly increasing in size and acquiring more lustrous hair.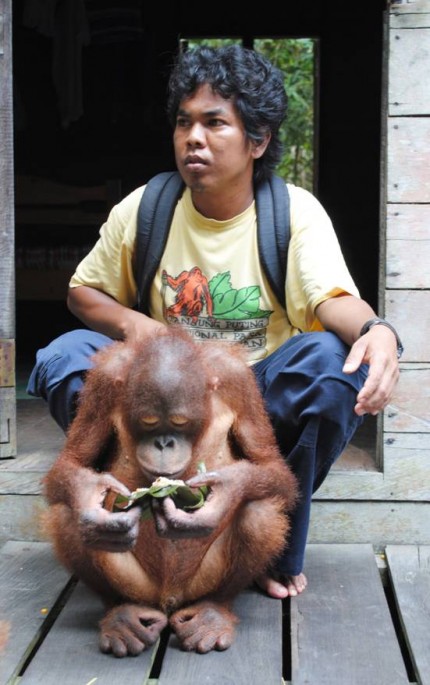 The process of eating appears to be a very enjoyable and important pastime for the underweight orangutans, so ensuring a varied and interesting range of foods is key. The porridge project will continue into the future, and hopefully, more and more orangutans will gain weight!
A big thank you to our current donors who have enabled the success of this program. To continue sustaining the additional costs, please consider donating. OFI relies on donations from our generous members to buy orangutan food.