Hello! This is the first enrichment blog posting for the Orangutan Foundation International! Come explore the world of enrichment at the Orangutan Care Center and Quarantine (OCCQ) in Pasir Panjang, Indonesia, as we work to make our animals happier and healthier. My name is Jessica Parker and I am the current Environmental Enrichment Fellow in the enrichment program run by Ibu Maryanti.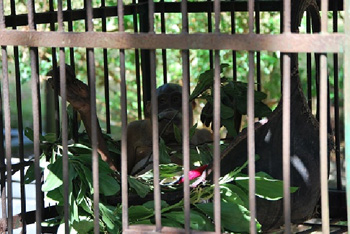 Each week, we will provide you with stories, pictures, and interviews that will give you the inside look into OFI's enrichment program and help you get to know the residents of the OCCQ personally.  Hang on, we are about to take a walk on the wild side!
Our Feature Story of the Week is about Ulin, a small twelve year old female orangutan who suffered from severe malnutrition as an orphan after her mother was killed in the wild. Ulin's progress was slow as she dealt with the physical and emotional problems that are so common in rehabilitant orangutans due to their traumatizing introduction to the human world. The first step in enriching Ulin's life was starting a program of weekly outings outside of her enclosure with a caregiver. Ulin spends most of her time on these outings foraging for food materials although her definition of "food" is clearly very different than our own, probably due to the effects of malnutrition. In short, Ulin loves to snack on clay clumps and dirt!
After the first few outings, she is becoming more and more active as she takes to the trees for a short time, climbing through the branches and munching on fruit and leaves. To provide comfort and warmth on cool nights, we gave Ulin large thick towels to curl up with. Her initial response was to place the towels over her head and body, leaving only her large dark eyes visible under the folds of her new cloak. She then decided that towels are multifunctional and, over the course of the day, used them as seat cushions, blankets, food mitts, and a tent. Next, we gave her a recycled tire that could be used to sit in or to build a nest on; in other words, a throne for Queen Ulin. She took her royal duties very seriously and carefully moved the tire to a corner where it could be propped up in the most comfortable position. She then used the towel to line her tire and proceeded to build a nest from fresh acacia branches on top of the towel. The best part she saved for last, climbing on top of her new throne and perching there on her back while lazily feeding herself acacia fruit with one of her feet; Queen Ulin at your service! In our eyes, the best part of the week was Ulin's increased appetite and activity due, in part, to the new enrichment that is greatly increasing her quality of life as she progresses through the rehabilitation program before eventual release in the wild.
Stay tuned for our next posting about more enrichment adventures at the OCCQ!