At OFI's Orangutan Care Center and Quarantine (OCCQ), enrichment is a crucial part of caring for the physical and mental health of the orangutans. Over the past few years, the number and complexity of the items offered to the orangutans has increased substantially due to the dedicated work of the Enrichment Coordinator and a number of long-term volunteers. Enrichment is especially important for those orangutan individuals that cannot be released regularly into the forest for health or logistical reasons.
In addition to the "Enrichment Team," the OCCQ staff is very supportive of the routine offering of environmental enrichment. Usually, it just takes the starting of a project to suddenly have many "cooks in the kitchen" who want to assist and see the task completed! Examples of our current installations include log and tire swings and tire hammocks for the orangutans' sleeping enclosures. Tires are bought second-hand from Pangkalan Bun while fallen logs can be found in abundance in the forest. Orangutans greatly enjoy testing out the new items in their enclosures and usually make their nests in the new and comfortable fixtures.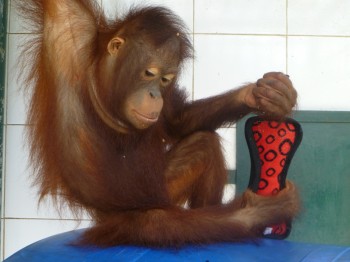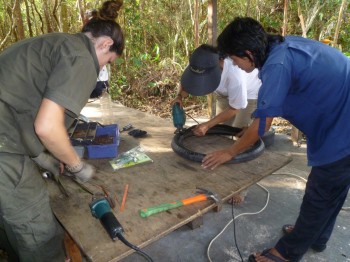 With the invaluable help of two former long-term Australian volunteers briefly visiting the Center, the team has completed the most complex structure to date for the nursery consisting of two tire hammocks and a center barrel. This environmental enrichment was recently hung in "Hocky's enclosure," initially built through donations raised by a former enrichment volunteer. Funds and expertise combined to greatly enhance the inside of this enclosure. Similarly, the science and art of creating enrichment benefits from the insight and creativity of many people.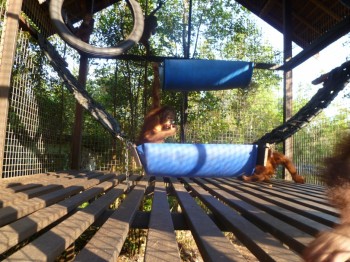 Daily, we also provide fern and branch bundles filled with bean sprouts and other healthy vegetables. With this exercise, too, we usually have a number of people wanting to help "cari daun" (look for leaves) and make parcels. Along with coffee and a fun playlist, it is an enjoyable way to spend the morning making up to 100 bundles to pass out to the eagerly awaiting ape residents of the center!
While the team attempts as much as possible to provide readily available materials to the orangutans, such as branches and leaves from the forest, oats, roasted peanuts, jam, and pasta from nearby grocers, and fruits and vegetables from the local market, we often require supplies that are expensive or difficult to acquire in the area. Chain, bolts, barrels, and tires are long-lasting equipment that help to furnish sleeping enclosures and can be bought locally. Other items, such as durable rope and PVC, rubber dog toys, and fleece material must be purchased elsewhere and are sometimes donated.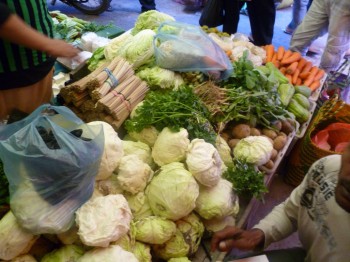 In addition to being more sustainable and practical to use local produce, it is also healthier to feed local produce to the orangutans! We have become more creative in using vegetables, fruit, and spices to make ice treats, juices, parcels, and other items. The orangutans especially like mashed potatoes and yams, mangoes, avocados, carrots, tomatoes, and ginger root. Just like children, they are not always eager to drink the juices made from greens!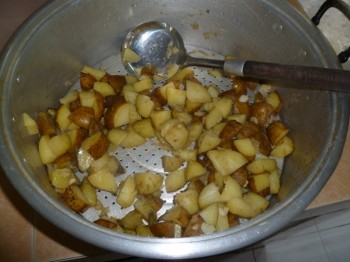 Recently, the Kong© company, which manufactures durable and challenging toys for dogs and other domestic pets, donated a stock of toys for the orangutans to use. These have been used for the past few weeks with great success, though it often takes some bribing with peanuts or milk to retrieve the finished Kong from an individual! Many enjoy carrying the novel item around their enclosure and using sticks to probe the inside for raisins, peanut butter, and other treats. With over 330 orangutans in the care of the Center, the enrichment team can always use more of these and other such items!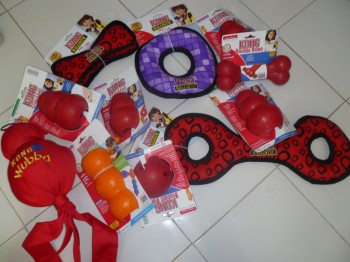 If you would like to assist the Enrichment Team at OCCQ with providing quality care to orangutans in its rehabilitation program, please consider visiting our Amazon Wish-list accessible here. Currently, supplies that are most needed are Kongs©, rope, U-bolts, and tools. Items can be purchased on-line and easily shipped to the Los Angeles office where they will then make their way to Pasir Panjang and into the arms of some very deserving orangutans.