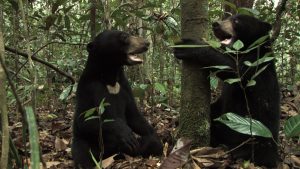 A year and a half ago, on August 1, 2012, thanks to the encouragement and support of Dr Biruté Mary Galdikas and Orangutan Foundation International (OFI), I was given the opportunity to begin the rehabilitation of two captive orphan sun bear cubs back to the wild. The youngest, Bernie, a female, was about 6 months old and the older, Wawang, a male, was about a year old.
The re-introduction took place in a protected forest with a remote OFI camp as base. The cubs would sleep at night in a comfortable cage close to camp. Every morning at dawn, I would let them out to spend the whole day in the forest to play, explore, and search for food. They were like brother and sister and would stay together, following me in the forest as they would have done with their mother. Sometimes, however, Bernie would go her own way, leaving Wawang and me to follow her. The two cubs would spend most of their time playing and looking for food, but they couldn't find enough to satisfy their appetite, so after a long day in the forest they were usually happy to go back to their night cage where food was waiting for them. They made no fuss at being locked in for the night as if they knew that they would spend the whole next day in the forest again.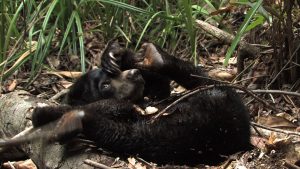 Slowly the forest became a part of them and they became a part of it. The young wild bear in each of them became more present while the captive frustrated cub disappeared. They accepted me as a substitute mother and came to me when in need of affection. My presence chased away the eventual wild bears in the area and helped make the forest around the camp become Bernie's and Wawang's territory.
One afternoon, after 6 weeks of daily walks, Wawang decided to go off into a thick swampy part of the forest where it was impossible for me to follow. Bernie followed Wawang and both spent their first night out in the forest. The next morning, with a machete, I slowly made my way into the thick swamp, following Wawang's radio signal. After a long search, I was devastated to find his lifeless body, covered in wounds from sharp claws and long canines. Was it a wild bear defending his/her territory? I'll never know. I took Wawang's body to bury it close to camp and later found Bernie high up in a tree, safe and without wounds, but frightened and trembling. She eventually came down and followed me back to camp.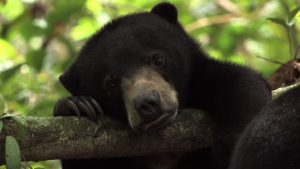 Wawang had the happiest 6 weeks of his short life. He was always in a good mood, always positive, and happy. He died like a young hero in his first fight. I loved him dearly and cried for him at length. Bernie had lost her companion, her brother, her double, and seemed as sad as I was. But we helped one another overcome Wawang's loss by staying close. We pursued our daily walks together and slowly found a new equilibrium.
By late October, Bernie was in better spirits and made it clear that she didn't want to be locked up at night anymore. I took the decision to leave the door to her cage open at all times. We thus entered the second phase of her re-introduction: Bernie was now 100% free. Her cage was an open cage, a dry safe place which she could enter and leave as she pleased. She enjoyed this new arrangement and would spend most of her nights in trees close to camp, but sometimes when it rained she actually preferred sleeping in her cage.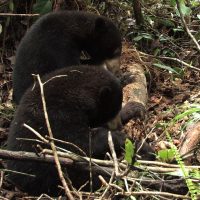 A few weeks later, on December 19, 2012, I found her covered in wounds hiding in a den in a swampy area with tall grasses about 600m away from camp. She was alive but in a pitiful shape. She had probably been in a fight with another bear; her wounds were deep and open. She refused to let me carry her back to camp, and refused to follow me back. She was too weak to look for food on her own, but ate all I gave her with appetite. She was afraid to move away from her forest den. So I stayed with her in the swamp the first night. I put her on antibiotics the next day and spent the following three months bringing her food daily and spending whole days with her in the grassy swamp. She progressively got better, moved around, and regained her confidence. But she still refused to come back to camp.
On March 17th, for no apparent reason, she followed me to camp as I walked back in the evening like I always did. She entered her cage, smelled around, ate her food, and went out again to rest in a tree nearby. She was back home after 3 months absence, and everything was back to normal, just like that. We resumed our daily walks in the forest and she re-took possession of the forest around camp. With time she became more independent. I was following her more than she was following me. She was moving faster and faster, her signal often disappearing from my radio receiver because she was too far away. She would sometimes choose not to come back to camp in the evening. We spent increasingly less time cuddling and playing, while I spent more time just waiting for her in the forest while she did her own thing.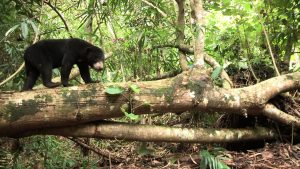 During the month of July 2013, she made it increasingly clear that my presence in the forest was not necessary. Sometimes she would disappear for hours and when she came back, she would walk straight by me without even acknowledging my presence. So we entered the 3rd phase of rehabilitation, where I would not try to find her in the forest every morning to follow her. Instead I would wait for her at camp. She came every day for her food and I was there to greet her, available to play or cuddle if she so desired, but I stayed back when she chose to go away. At first she went away for no more than 24 hours, sometimes pushing it to 36 hours.
In November 2013 she disappeared for 7 days. I was very worried and looked for her extensively, desperate at not catching the faintest radio signal on my receiver. But she came back one evening, as if nothing had happened. She was hungry, yet she had no wounds. She slept in her "cage", went off again in the morning, and took back her routine of daily visits. Then on December 9th, she disappeared for 16 days! She came back on the 25th, healthy and happy, looking increasingly like an adult bear. It was my best Christmas present ever.
Now as I write, she is back to her routine of daily visits. She is more than two years old and is taking full advantage of her freedom. I am so happy for her. I hope the spirit of the forest will continue protecting her.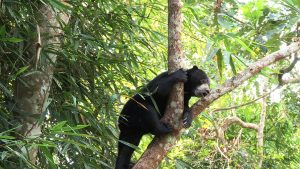 I now spend less time at camp, where the OFI forest guards continue giving Bernie supplementary food, but I spend more time at the OFI clinic in Pasir Panjang, caring for the three adult bears (Desi, Kevin, and Hildegarde), and a new cub that just arrived. OFI and I are beginning the construction of a one hectare enclosure for the three adult bears who can't be released, but Ori, the new cub, is only 6 months old and could very well be rehabilitated to life in the forest. I pray someone will volunteer to take that responsibility. Giving back an animal his/her freedom is a beautiful experience, and bonding with a sun bear is something extraordinary. Ori deserves the chance that both Bernie and Wawang had to go back to the forest and to become, once again, a wild bear.