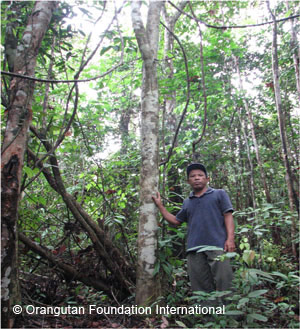 Rainforest Restoration Programs
OFI assists in the planting of various tree species in degraded areas outside of Tanjung Puting National Park as well as inside the Park.
OFI's botanical nursery helps grow seedlings and saplings. Local women are typically hired to plant various species of trees. By planting trees now, we can help expand forests for orangutans not yet born, provide forest corridors through open areas, and help other species that can adapt to marginal forested habitats.
OFI planted 5,000 trees consisting of seedlings from at least ten different species in 1988 across the Sekonyer River from the Park near the Sekonyer Village at Tanjung Harapan. OFI bought the open land consisting of abandoned rice fields for the tree-planting program from local people in order to establish a corridor near the village so that arboreal wildlife could easily access the river edge.
In particular, we try to employ women when possible in these programs as well as in the Sekonyer Village. A number of women in the Village benefit from part-time work collecting rubbish from households and litter from Village streets and trails.
Although most of the seedlings of one species of tree, a primary forest tree locally known as "merang", did not survive well, the other species did. A small secondary forest now stands in an area where in 1988 not one small tree stood and a person could see across open fields straight into the village in the distance and its houses and mosque.The planted forest is similar to natural secondary forests in terms of species and wildlife, being heavily used by birds, proboscis monkeys and crab-eating macaques, as well as the occasional wild orangutan.
Currently, OFI is restoring forests with tree-planting programs in areas outside the Park in order to provide wildlife with forested areas and corridors near villages where plantations and gardens are being established.