Very little primary rainforest remains in the immediate vicinity of Pangkalan Bun. This is why OFI's four hectare relict rainforest sanctuary, 10 minutes outside the town center and 20 minutes away from the Orangutan Care Center and Quarantine, is so precious. It is also a refuge for several families of wild proboscis monkeys and crab-eating macaques.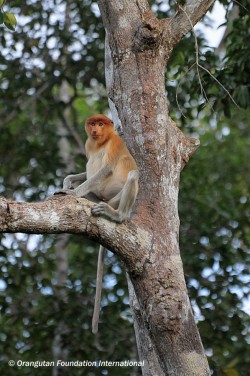 Previously a private, entertainment-type zoo, the land with all its captive and free-ranging wildlife was purchased by the Orangutan Foundation International (OFI) in 2008. Some of the captive residents, which included birds, a proboscis monkey, and a crab-eating macaque, were released locally. The gibbon was transported to a well-regarded gibbon rehabilitation center near Palangka Raya. The Malay sun bear badly needed medical attention and was transferred to the Orangutan Care Center and Quarantine as were a pair of binturong or bearcats. A cassowary, a large, jewel-colored land bird from the island of New Guinea, which could not be released in non-native Borneo, is also living at the Care Center awaiting possible release in eastern Indonesia.
OFI's president, Dr. Galdikas, began negotiations to close down the ex-zoo when she saw the deplorable conditions endured by the zoo animals. She was particularly concerned about the Malay sun bear which was suffering from mange, drank rainwater from a murky cistern, and had no shade from the equatorial sun.
Now, the empty cages are picturesquely overgrown with creepers. The lowland peat swamp forest is a miniature natural herbarium and garden, full of the pale trunks and stiff, bright green leaves so typical of tropical forests. At any time of the year, some plant or other is fruiting. A small river flows to the side. It is a safe oasis of biodiversity in an area that is rapidly urbanizing. The non-invasive, raised wooden walkways allow locals and visitors to appreciate the sanctuary's flora and fauna in their own community.
Another treasure in the former zoo is a central ironwood house on stilts, with a satellite kitchen and large, stilted front veranda. Occasionally serving as home base for OFI's volunteer construction teams, it is being considered as a location for the creation of a local natural history museum.