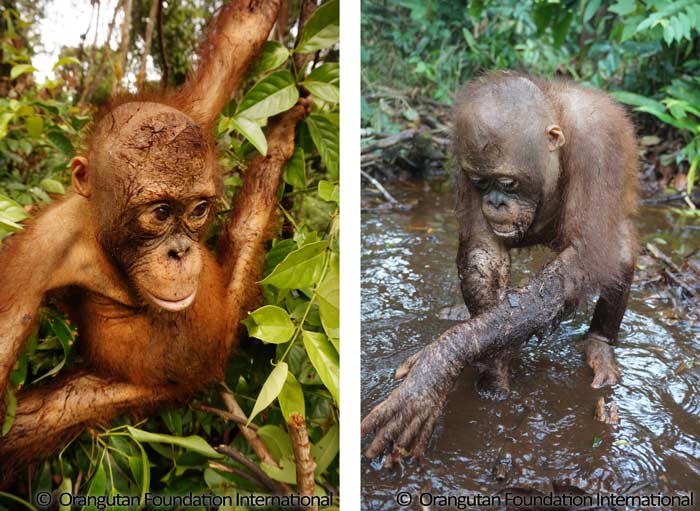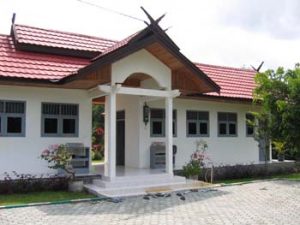 In 1998, Orangutan Foundation International established the Orangutan Care Center and Quarantine facility. Located in the village of Pasir Panjang, near Tanjung Puting National Park, the OCCQ was created for confiscated ex-captive orangutans needing medical and other care as well as forest experience in preparation for their release into the wild.
The OCCQ also enables Indonesian wildlife officers, police, OFI staff and concerned individuals to bring confiscated, sick, and injured orangutans (including wild orangutans) to a facility in Central Kalimantan capable of providing a very high standard of veterinary care.
Orangutans, once rescued, need medical, parental, and emotional care before they can be successfully released into the wild. All newly arrived orangutans initially undergo a 30 day quarantine during which OCCQ veterinarians give the rescued orangutans an extensive health check. Blood, feces, and urine are examined. Afterwards orangutans are tested for evidence of tuberculosis and hepatitis. Most rescued orangutans have intestinal parasites as a result of their captivity. Some parasites might have been carried over from the wild. Nonetheless, intestinal parasites must be eradicated to increase the odds of their survival in the wild. Occasionally, rescued orangutans also have a form of orangutan malaria that must also be treated. Once released from quarantine, the rescued orangutans stay in age-appropriate groups at the various facilities at OCCQ. They are de-wormed every three months while the local OFI staff also receive de-worming medicine every six months. (De-worming medicines are alternated to prevent resistance developing).
In the wild, orangutan infants share an intense bond with their mothers and do not leave them until they are, at least, 8 or 9 years of age. At the OCCQ this intense bond is replicated, to some extent, by the relationships orangutan infants develop with their caregivers. These local caregivers are the surrogate mothers who help take care of the infants until they become large juveniles. The job is made harder because many infants come to the OCCQ physically, mentally, and/or emotionally wounded. Many suffer from injuries received when their mothers were killed. Many also suffer from malnutrition and failure to thrive. Some require long-term medical and other intense care that may last for years. As infants, all these orangutans need to be fed, housed, and cared for. They also need to learn how to make night nests in the trees, how to forage and process wild foods, and how to move competently through the canopy. They all need daily enrichment activity and enrichment materials, delivered by trained staff and occasional volunteers, to ensure satisfactory cognitive development, as well as mental and sensory well-being.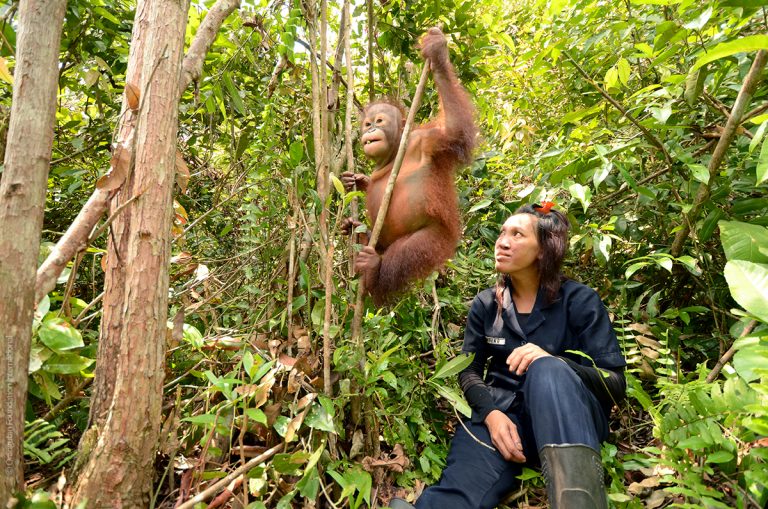 Daily outings to the forest are a critical part of the infant orangutan enrichment program. For much of the day, rescued infant orangutans are free to explore, forage, and play in the Learning Forest next to the OCCQ under the watchful eyes of their caregivers, completing a critical part of their rehabilitation process as they learn to live and survive in the wild. Older juvenile and adolescent male and females groups are released into the Learning Forest on alternate days to avoid mating and unwanted pregnancies. Sick or injured orangutans are quarantined until they recover and are healthy again. Some of the larger males cannot go out into the Learning Forest for safety reasons due to their size and potential aggressiveness, but they will eventually return to the wild when they have been approved for release and a suitable release site is decided, (for surrounding communities as well as OFI staff), these orangutans will eventually return to the wild when suitable, safe forest is found. Releasing orangutans into the wild in unsustainable forests is a virtual death sentence.
The main constraint on the release of wild born ex-captive rehabilitated orangutans into the wild is securing suitable release areas.With the massive deforestation caused by palm oil plantation expansion, as well as other kinds of development such as industrial timber plantations for pulp and paper, there is very little forest left to release rehabilitated individuals. OFI only releases orangutans into protected forest areas that satisfy strict requirements of safety and seasonal, wild fruit productivity. Additionally, OFI sets up camps in the release sites to both track/monitor the released orangutans, as well as guard the area at the guard posts we have established. These camps serve as a constant reminder of OFI's presence in the area helping to prevent potential threats. Good communication with people adjacent to the release sites has also been a major factor in the success of our rescue and release program.
Medical facilities
The OCCQ is currently staffed by full-time Indonesian veterinarians with a local medical doctor on call. The Center currently employs over 130 local staff and takes care of 320 orangutan orphans, all of whom will be eventually released into the wild. OCCQ's current facilities include an operating room, X-ray department, medical laboratory, library, living quarters for veterinary staff as well as a separate quarantine complex.
The OCCQ is located within 80 hectares of relict primary peatswamp forest where orangutan orphans are released daily. This forest provides a type of "halfway house" where orphans can learn locomotory and nest-building skills as well as foraging techniques. Within the forest are small wooden facilities that allow some of the orangutans and their caregivers to sleep in the forest at night.
READ MORE ABOUT US AND OUR WORK