Former American President Bill Clinton spent two days visiting Orangutan Foundation International's facilities in Central Kalimantan (Borneo), Indonesia.
Traveling with a delegation representing the Clinton Foundation's Climate Initiative, Clinton was given a private tour of OFI's Orangutan Care Center and Quarantine (OCCQ) facility and accompanied on a special visit to Camp Leakey by OFI founder and president, Dr. Birute Mary Galdikas.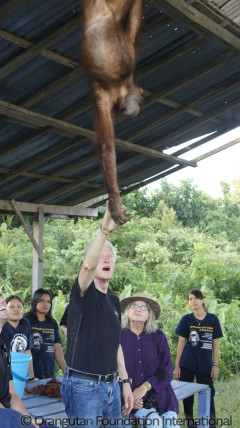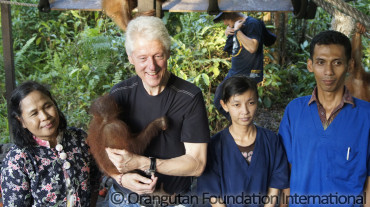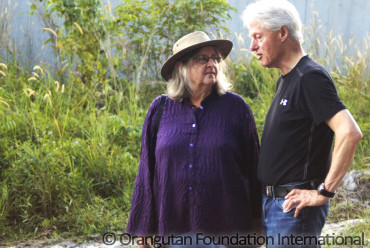 The OCCQ is a non-public rehabilitation center where orphaned and injured ex-captive orangutans are cared for until they are ready to be released into the wild. The facility currently cares for over 300 orphaned orangutans. President Clinton and members of the delegation had the opportunity to witness first-hand several different stages of the rehabilitation process while the adolescent orangutans were taken into the nearby forest to practice their foraging skills, the juveniles perfected their climbing skills at a playground, and the infants explored the forest with their caregivers.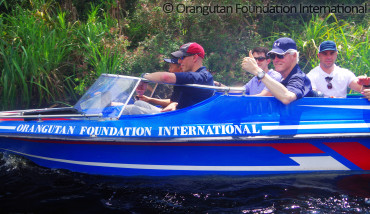 The following day President Clinton, Dr. Galdikas, and the delegation traveled by motorboat up the Sekonyer River and deep into Tanjung Puting National Park to visit Camp Leakey. Camp Leakey is Dr. Galdikas' historic research site established in 1971 and is still active today as a base for all of OFI's research and conservation efforts in Tanjung Puting National Park.
Clinton paid the visit to meet working partners of the Clinton Foundation in Kalimantan, including the Rimba Raya Conservation (RRC) Seruyan (one of OFI's current partners) and Rimba Makmur Utama (RMU) Katingan.