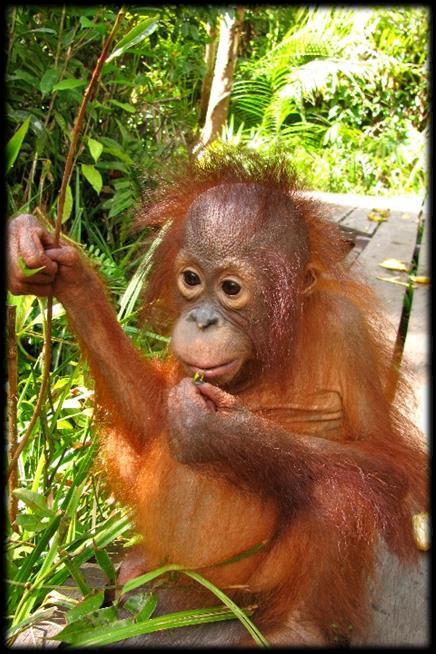 Over the last few decades, because of your support, our Orangutan Care Center and Quarantine (OCCQ) has been able to successfully rescue, care for, and release over 800 wild born ex-captive orangutans to life in the wild as well as rescue over 100 wild orangutans from human conflicts, primarily in the process of deforestation. Although we have saved so many orangutans, our work continues to be as important as ever. We have made a difference. However, despite our efforts to educate local people in Borneo, to counter deforestation through replanting efforts and land purchase, to protect and patrol surrounding forest, and to fight forest fires, the establishment of timber estates for pulp and paper and industrial palm oil plantations continues the rampant destruction of orangutan habitats.
At OFI's Care Center we are currently caring for approximately 300 orangutans. Some are infants who would not have survived after being separated from their mothers who were killed, victims of the destruction of Borneo's rainforest. As these infants grow, they require increasing amounts of food necessary to maintain a proper diet in order for them to become healthy adults who may one day be released back to their forest home.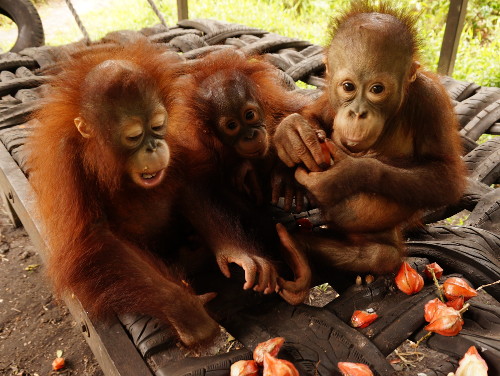 The cost to maintain operations at OFI's Orangutan Care Center and forest camps in Borneo is approximately $1.5 million dollars. This includes the cost to purchase, prepare, and distribute daily food for the orangutans as well as the cost of transportation, salaries of 250 staff including veterinarians, food and housing for the staff, forest patrols, maintenance of forest camps and OCCQ buildings.
At the OCCQ orangutan feedings are scheduled five times per day as in the wild orangutans spend most of their daytime hours foraging. In addition to the feedings, during the day orangutans receive a variety of fluids consisting of milk, electrolytes, and fresh water. We also stimulate mental enrichment through food and other enrichment which OFI staff provided on a daily basis.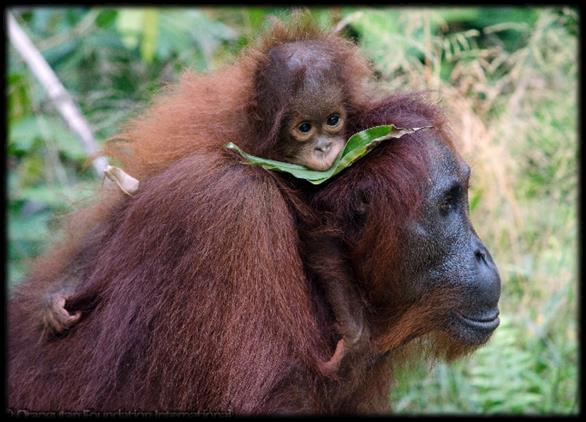 OFI's Care Center staff also prepare and provide a
similar diet to recently released orangutans at feeding platforms in over a dozen locations in the forest. In addition to the orangutans at the Care Center, OFI may feed up to 400 orangutans at the forest feeding stations daily.
All these feedings for so many orangutans add up to an average of one metric ton of fruits and vegetables each day at the Care Center and nearly 600 tons of fruits and vegetables for all orangutans each year. In order to maintain our food sources and provide a proper diet for the orangutans, OFI purchases seasonal fruits from local markets to not only foster good relationships with local communities but also to ensure fresh produce for the orangutans under our care.
---
Help us to continue to provide the care necessary at the Orangutan Care Center and Quarantine to ensure we are able to meet the needs of the wild-born and ex-captive orangutans who depend on us for their survival so they may one day return to forest.
---
We ask for your continued support of OFI's Care Center. By providing year-round care to the hundreds of orangutans who depend on OFI for their survival and a second chance at the life they deserve in the forest, a forest that we are dedicated to protecting, you will continue being the orangutan's greatest ally. If orangutans could speak, they would thank you from the bottom of their hearts.
Donate Now!
In deepest gratitude,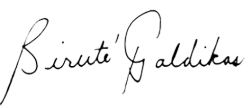 Biruté Mary Galdikas
OFI President