Trust me, I'm a vet.
Rescuing and caring for orangutans is serious business. However, it's not all scrubs and surgeries around OFI's Orangutan Care Center and Quarantine (OCCQ). OFI's professionals also savor the unique challenges and triumphs of working in wildlife protection. Here, our four stellar medics reflect on the highlights of their careers, and some of the best parts of working for OFI.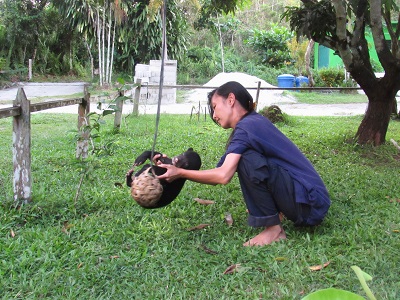 Dr. Popo
OFI Veterinarian since 2004
"The best part of being here are the infants!" OFI cares for not only young orangutans, but now also has begun rehabilitating sun bears. "Bubu, [a now-released Malay sun bear] was the first bear I cared for, in 2017. She grew up right in front of me. I was with her all day for months and others looked after her at night.
This field is special. We see really sick captive baby orangutans coming in [to the OFI Orangutan Care Center and Quarantine]. We tend to their health and they grow well until finally they can be released into the wild. I am not at every release, but to see the wild born ex-captive orangutans go free after you take care of them for years, it feels good. "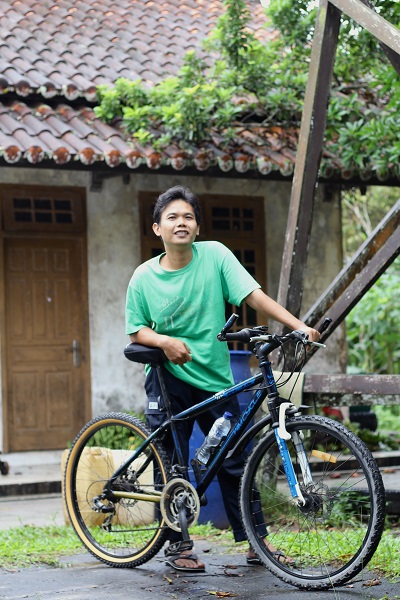 Dr. Ketut
OFI Veterinarian since 2008
"The best part of working at OFI? That's easy. Meeting my wife [OCCQ's Deputy Manager, Ibu Sumi]. I was engaged to be married before I met her, but fate brought me to OFI and to her.
Another moment that stands out is with Janu, a big male orangutan that OFI had released some years back. I was just starting work at OFI and part of a team releasing another wild born ex-captive male orangutan into the forest. When we were getting ready to release him, Janu was present at the site. When we let the newly rehabilitated ex-captive orangutan free, Janu jumped down from a tree, bit me, and then ran off! I don't know if it was my favorite moment, but it was memorable!"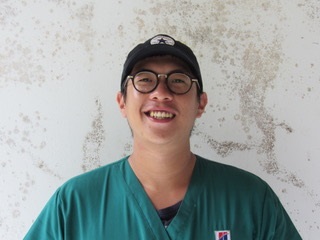 Jeremy
OFI Veterinary Nurse since 2017
"One of our biggest achievements here was [infant orangutan] Jeffrey Junior's treatment. He came in paralyzed from the waist down and suffering seizures. I lived with him in the quarantine area for 3 months straight. I remember one night, we were losing hope with him. He was laying stiff in my arms. He was having trouble breathing. He was taking massive doses of seizure medicine. If I was him, I would not have been able to withstand the sickness. Running out of options, we gave him seizure treatment for adult orangutans. We just thought it was going to be time to let him go. But he was a fighter, and he recovered. Seeing him reaching for branches and touching leaves for the first time, probably for the first time in his life, it was such a relief. All the effort that we put in, it paid off. I visit him once a week. His caregiver says that if I come too often, Jeffrey can't sleep at night. He still remembers me and he gets really excited. So I have to keep a distance."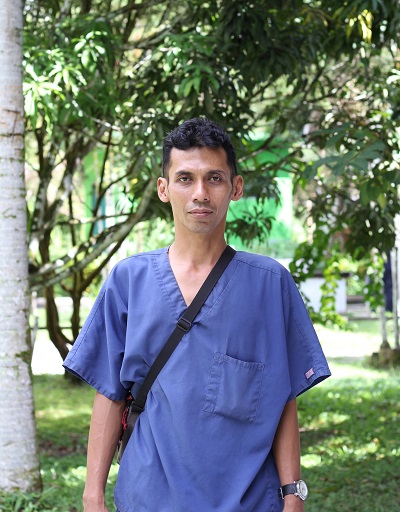 Dr. Prima
OFI Veterinarian since 2004
"I like [the Orangutan Care Center]. In the mornings it is different. When I get to the Clinic, it feels fresh. When I first came to OFI, I lived at the Clinic for around three years. After I started a family, I moved to a house and now almost every day I come in around 7 am. At that time, there is quiet, serenity, and peace. I don't feel the city.
For me, all our animals are special. Maybe I am different from other employees. There are one or two animals that stay in their hearts. I don't have that. I am afraid that, if I have special animals in my heart, if they are sick, I will make them my priority at the expense of others. I feel it is my job to be aware of that. All the orangutans are special to me."
Share this story