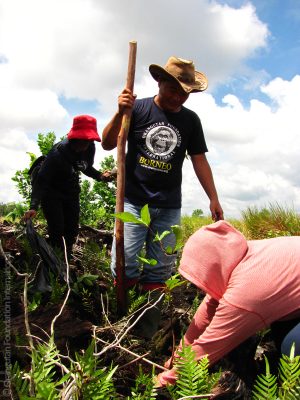 OFI has taken on the enormous task of reforesting the areas of the Orangutan Legacy Forest that were lost in the devastating fires of 2015. The damage inflicted by the fires, which seem to be getting worse every year, is almost immeasurable. Over 2,495 of hectares of the OFI Orangutan Legacy Forest, which was thousands of years old, was destroyed. Six Indonesian provinces, including Central Kalimantan where Tanjung Puting National Park and OFI's Care Center are located, declared a state of emergency.
If we want orangutans to have a future, simply protecting what little forest remains is not enough. We have to do more than stop the bleeding. We must start the healing.
Replanting the burned areas requires an estimated 2.5 million trees. Seeds and saplings of species native to Borneo are collected and planted in OFI nurseries which accommodate tens of thousands of seedlings each year. Under the watchful eyes of the dedicated Reforestation Team, the seeds and saplings are nurtured for years, and protected fiercely so that they can grow into large, fecund trees bearing plentiful luscious fruit for orangutans and other wildlife to eat.
Donate Online to the Reforestation Program

To meet the challenge of replanting the forest that has been destroyed, OFI needs funds for staff, agronomists, transport, and nurseries. Your donation will help OFI begin the process of bringing the dead forests to life, so that orangutans and other wildlife can live.