Please note we are not currently recruiting for Long Term Volunteers. Please check back in 2019.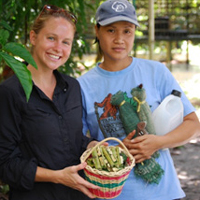 Orangutan Foundation International protects 6,000 wild orangutans in Tanjung Puting National Park, in Kalimantan, Indonesia. Facilities include 16 guard posts throughout the park and numerous staffed feeding stations in addition to the Orangutan Care Center and Quarantine (OCCQ), which is currently rehabilitating over 300 young orangutans and preparing them for return to the wild. The majority of individuals are under 10 years old. The Care Center consists of a central clinic and units housing the older individuals, while the outlying juvenile and infant units and the medical quarantine facility are set in the surrounding 80 hectare forest. Most of the orangutans are very well-habituated to humans. They arrive in the OCCQ by confiscation from homes, black markets, bush camps, entertainment industry, and abusive zoos.

Volunteering for OFI can have a big impact on your life and on the lives of the thousands of orangutans we fight to protect. Each year, OFI is grateful to receive many kind inquiries from volunteers willing to spend weeks, months, even years in Kalimantan, helping at the Orangutan Care Center or in Tanjung Puting National Park. For our successful long-term volunteers, OFI is pleased to be able to offer letters of reference that will serve as testimony of their dedication to our organization and the quality of the contribution they have made to our cause. Volunteers are expected to submit a final report on what they have learned, experienced, and accomplished during their tenure with OFI.
About the Orangutan Care Center and Quarantine (OCCQ)
The OCCQ is situated in the village of Pasir Panjang, a fifteen-minute drive from the small city of Pangkalan Bun. This city has an airport and is situated in the south of the province of Kalimantan Tengah, Borneo, Indonesia. Volunteers work on a daily basis at the OCCQ in Pasir Panjang. Most of the locals speak rudimentary or no English. Languages are Indonesian and local Dayak dialect. The staff working hours are 8:00 to 16:00, with a lunch break around noon. If desired, the volunteer may take one day off a week.
Life at the OCCQ
Living arrangements are typically with a local family homestay. Living conditions are basic, with limited running water, no landlines or internet (although wireless USB modems can be bought in Pangkalan Bun and internet cafes are available in the city as well). The quality of care in the homes varies, from simple room accommodation to cooking and laundry provided. OFI makes an effort to arrange homestays for all its interns and volunteers, but there is an element of unpredictability in any such arrangements. In case of emergency, hotel/motel accommodations are present in Pangkalan Bun and even closer to Pasir Panjang.