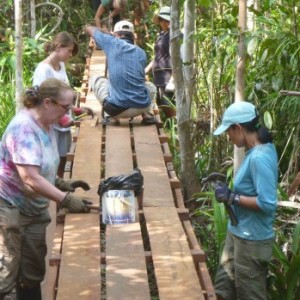 Orangutan Foundation International has volunteer opportunities available for active individuals who want to get their hands dirty and help save one of the earth's most bio-diverse areas. Come to Borneo, the world's oldest rainforest, and help OFI build a much needed structure! You may be building a bridge, an enclosure, an infant orangutan jungle gym, or another structure to help OFI continue our work to save orangutans in the rainforest.
Field volunteers complete projects that aid critically important aspects of our on-the-ground programs. The Field Construction Volunteer Program was developed because concerned individuals asked to participate directly in the work. We believe that together we can ensure that wild orangutans do not become extinct in our lifetimes. Click here for a downloadable brochure.
For more information, you can read the FAQs here.
Dates for 2019
July 7 – July 27
Aug 11 – Aug 31