OFI sends our heartfelt gratitude to all the Short Term construction volunteers who made the voyage to Indonesia to work with us this year! The dedication, positive attitude, and spirit of the people who come to the field to help OFI never fails to impress us. And this year was no exception! Although this year's teams were smaller than usual, that didn't limit their accomplishments. In fact, the flexibility of the smaller groups enabled OFI to reach further and do more!
Team 1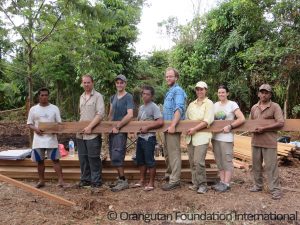 Team 1 set forth blazing a trail for the other teams! Team 1 worked at one of OFI's most remote release camps to build a much needed guard post at the nearby forest's edge. Almost immediately this post proved its worth as a vantage point for identifying forest encroachment and detecting fires. For a first hand account of this project, check out this issue's 'News from the Field' article written by Team 1 volunteer Giles Dawson. Many thanks to Team 1 for working so diligently in the sun and rain to get the guard post and tower finished in time for this year's dry season. (Dry season often means fire!) An extra thank you goes out to long term volunteer Brodie Philp for his coordination assistance during this team. Also, extra thank yous go out to senior intern Ruth Linsky for coordinating all the teams this season.
---
Team 2
Team 2 also helped greatly at this same remote release site. They built boardwalks in the wet, tropical rainforest to improve the patrol and transect trails. Orangutan and sun bear monitoring at this release site requires the use of trails. Traversing the swamp forest can be difficult at the best of times, and boardwalks are critical to pass through the forest during the wet season. Team 2 volunteers carried enough wood to build three new boardwalks (equalling 100m plus in length). They carried this wood over a kilometer down rugged trails. Our OFI staff (and orangutans) send a big thank you out to Team 2 for making travel in the swamp forest easier!
---
Team 3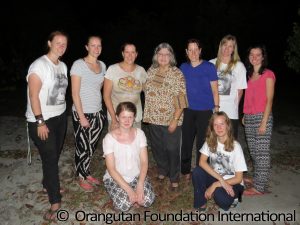 Team 3 rounded out the season in a different location. The final team worked on an exciting new OFI project, helping in the early stages of creating an artificial "island" in an OFI protected forest, to serve as an orangutan sanctuary area. This entirely female team hauled wood from the area surrounding the prospective "island" where the protective wall would be built. The Team braved acidic sap, biting fire ants, and daily sun exposure. Their positive attitude in spite of frustrations, due to jungle living conditions, was infectious. Team 3 should be proud that their effort was an important start for the orangutan "island" project getting underway. This positivity showed during their down time, which they spent creating new enrichment items for the orangutans at their camp as well as at OFI's OCCQ facility.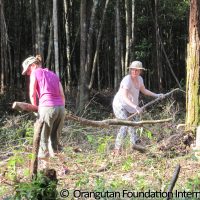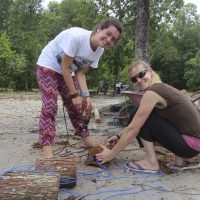 ---
Spending time in the jungle is not always easy – and a ground-‐‐level view of field work is an eye-‐‐opening experience! OFI is always grateful to our volunteers for their time, sweat, effort, and understanding. We hope that the short term volunteers can go home to help advocate for orangutans and forests from a more personal point of view. Many thanks to this year's fantastic volunteers first from the orangutans but also from OFI field staff, volunteers, administrators, board and President, Dr. Birutė Mary Galdikas.