Description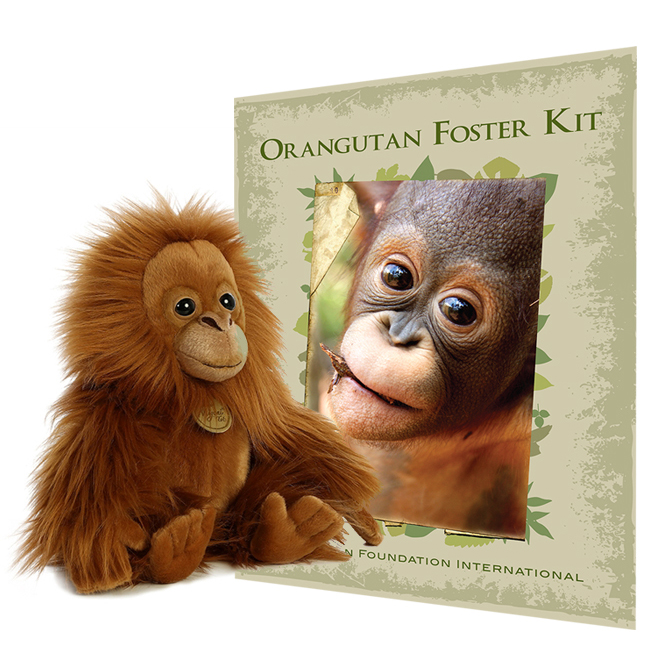 For orangutan lovers and conservationists of all ages! This package pairs the OFI Foster Parent Kit with an orangutan plush toy to remind each foster parent of their adopted bundle of joy! Each Foster Parent will receive an Intro Kit that includes an adoption certificate, the biography of your foster orangutan, a recent photo, an information sheet about orangutans, and other promotional materials. Foster Parents receive an update on their foster orangutan after six months with a progress report and updated photo to learn how their orangutan is progressing, as well as a new photo at the end of the 12 month period.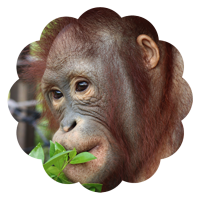 Benjamine
Benjamine approaches life with wide-eyed enthusiasm, meandering across the forest like a raindrop drifting down a windowpane. She seems to suffer from the affliction FOMO (fear of missing out) so she is always drawn to where the action is, be it in the playground or the surrounding forest.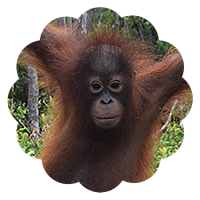 Proudfoot
Despite the circumstances in which she arrived at the care center as a recently orphaned infant, Proudfoot was and is a healthy orangutan developing apace. One cannot help but be transfixed by her dark liquid-pool eyes or admire her thick hair that glows in the sunlight with a fine russet hue.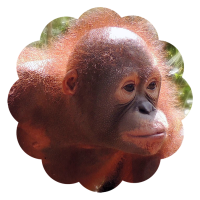 Bayat
Bayat came into OFI's care when she was only a few months old. With her quirky personality, Bayat is an incredibly endearing orangutan. On hot days, she loves to be fanned by her caregivers. When they do this, she will stand up and stretch out her arms, almost as if she is trying to catch the wind.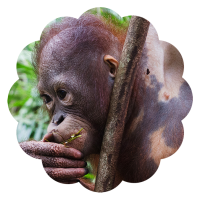 Cory Marder
Little Cory came from a palm oil plantation not far from one of OFI's protected forests. With her pursed lips and big, surprised looking eyes, it is hard not to melt when you see her.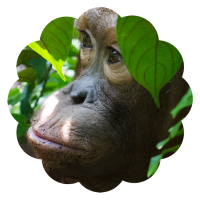 George Baru
When George Baru first arrived at the Care Center, he was still tiny. Now this beautiful boy is often seen exploring the forest quite independently, only coming back to the caregivers for the occasional rest or banana.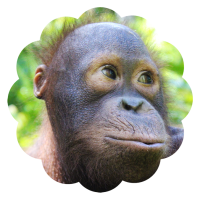 Karbank
Karbank is a bold explorer, constantly climbing, foraging, and building small day nests deep in the forest. He likes to play with the other orangutans and never gets aggressive. His favorite foods are bananas and young leaves.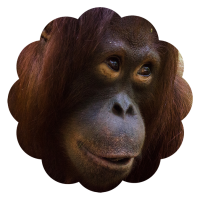 Krista
Krista's arrival at OFI's Care Center is unique – she was born there. She has a beautiful, benign face that can make you turn your head and an equally captivating personality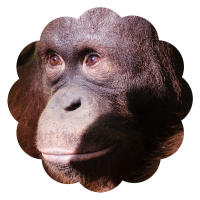 Lear
When Lear first arrived at the Care Center, he was a mere 2.8kg (about 6lbs). Lear loves his time playing in the forest! Maturing into a sweet natured juvenile orangutan, Lear is growing bigger and increasing his forest skills.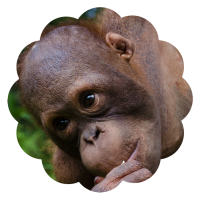 Mason
Infant orphan Mason came to the Care Center in 2009 as a tiny, shy bundle of orange. In time Mason will find more courage and become an independent and fearless orangutan.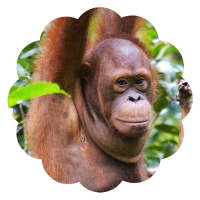 Mr Bernie
The skinny little orangutan Mr Bernie was upon his arrival into OFI's care has grown into the strong and extremely handsome youngster he is today. Mr. Bernie is a tad bit clingy and loves nothing more than to be nurtured and held by his favorite caregiver.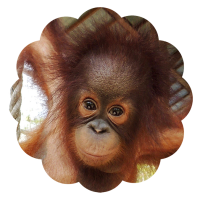 Trudeau
When Trudeau arrived at the Orangutan Foundation International's (OFI) Orangutan Care Center and Quarantine (OCCQ) he was terribly injured suffering from head trauma with bruising and swelling. This very young infant orangutan managed to overcome the odds and made a miraculous recovery!