As kids, we are all little yard monkeys. Running around, having fun, poking in the dirt with sticks to see what's what, playing games, and exploring our environment. Learning all the time about who we are, and where we fit in. I was a rambunctious red head, and fueled my youthful exuberance with plenty of bananas: Nature's perfect food. They're nutritious, delicious, and come in their own easy open, bio-degradable packaging. As red headed li'l man-ape with a fist full of bananas, I always had a particular affinity for the red ape, Orangutans, my evolutionary cousins.
As I grew older, and studied hard the teachings of those wiser than myself, I realized that there is a great deal of wisdom in the fact that we are all primates. We share a great many behaviors, the same environment and family tree, and sadly, our missteps affect the planet's other primates just as they do ourselves. I discovered Orangutan Foundation International over a decade ago and instantly knew it was something I was meant to be involved with. One of the first things I did was to sponsor two orphaned orangutans. Wiwin, and Selamat. My earnest donation helped to provide for their future, just as my parents provided for mine. It was a simple thing to do.
Years later I was grateful to be able to join Dr. Biruté Mary Galdikas and a group of dedicated volunteers together in Indonesia, and began construction on what was to be known as the "bridge of love." A sturdy pathway into the forest for orphaned orangutans to have fun, play games, to grow strong and explore their environment, just as we all did as kids. We worked hard and the rewards were many. Not only did we accomplish something bigger than ourselves by working together, we also learned about the lives and needs of our Red Cousins, and learned about our unified strengths along the way. When our time as volunteers came to an end, I was fortunate enough to be able to spend a few extra unplanned days with Dr. Galdikas. She took me and another volunteer to the north of Tanjung Puting National Park, where OFI had established a remote outpost. As we arrived at the distant camp, the sun was low on the horizon, and several orangutans materialized out of the forest to greet us. One of them had a newborn infant clasped in her embrace, only a few days old. The female was Wiwin, the orphaned orangutan I had sponsored so many years ago, now a mother with her child. It was a wonderful surprise and for me personally, the circle was now complete. Seeing her with a new generation in her arms showed me that my small effort had indeed helped to ensure the future. What more could one ask, than to help one's fellow primate thrive?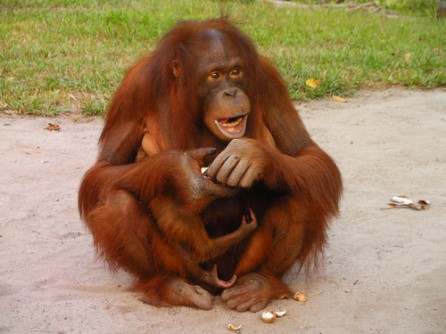 Mr. Chris – Adoption story