A Construction Volunteer's Account.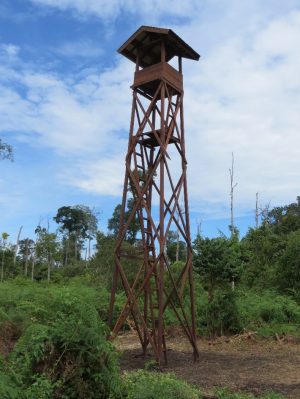 During our mid-morning break we lie down on spare planks from our construction site, seeking shade for a small respite. The air is so heavy with moisture that even when lying motionless, one is still drenched in sweat. Occasionally, a small breeze appears from nowhere providing relief for a few seconds. A beautiful butterfly lands on my arm and starts lapping up beads of perspiration. The butterfly's magnificent blue, white and black wings move gently backwards and forwards.
It is day thirteen of our twenty-five day volunteer construction program for the Orangutan Foundation International (OFI). We are building a guard post and water tower for OFI staff at Camp Seluang Release Camp on the edge of Tanjung Puting National Park in Southern Kalimantan. This is one of the release camps where OFI releases rehabilitated ex-captive orangutans, helping them return back into the rainforest where they belong. The tower will also provide protection against attempts to destroy the forest by local people seeking to find a way to possess more land. Fire is the biggest threat, an easy way for individuals and companies to get access to more land and convince the authorities that since the trees have been burned, the land can be converted to plantations.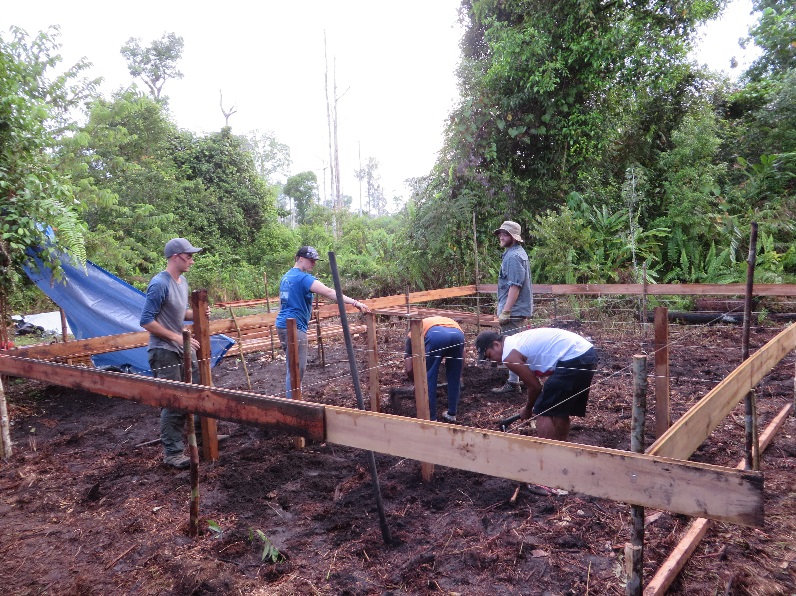 A small bird watches from a nearby branch, curious about the unusual activity in her environment. In the distance a woodpecker stutters his beak against a tree in search of termites whilst cicadas whistle and purr. Their buzz is so constant that it becomes part of the background noise. There is also a different sound like a gentle hum. It is monotonous and almost indistinguishable from the other background sounds. It is the drone of machinery. It is barely audible, yet a worryingly constant. We are told it is the noise of an excavator clearing the forest to make way for a new palm oil plantation. It is a constant reminder of why we are here in this unique Bornean tropical rainforest and a reminder of the possible extinction the majestic orangutans have been facing for the last 50 years due to human encroachment. It is a reminder that we are on the front lines of the fight against orangutan extinction. The last vestiges of these natural forests are being reduced at an incredible rate. The feelings of distress and frustration on the front line can be overwhelming.
Orangutans cannot survive without their natural habitat. They are arboreal primates who live mostly in trees eating termites, leaves, shoots and fruits. The assault on orangutan habitat results in orangutans moving into plantations where they cannot find food and where they are likely to encounter humans who usually consider them an enemy. Once inside a plantation, orangutans cannot easily survive. They will die unless they get back to the rainforest. OFI does its best to rehabilitate lost or captured orangutans, and release them back into their natural environment. OFI also fights to protect tropical rainforest, which is the orangutans' main habitat.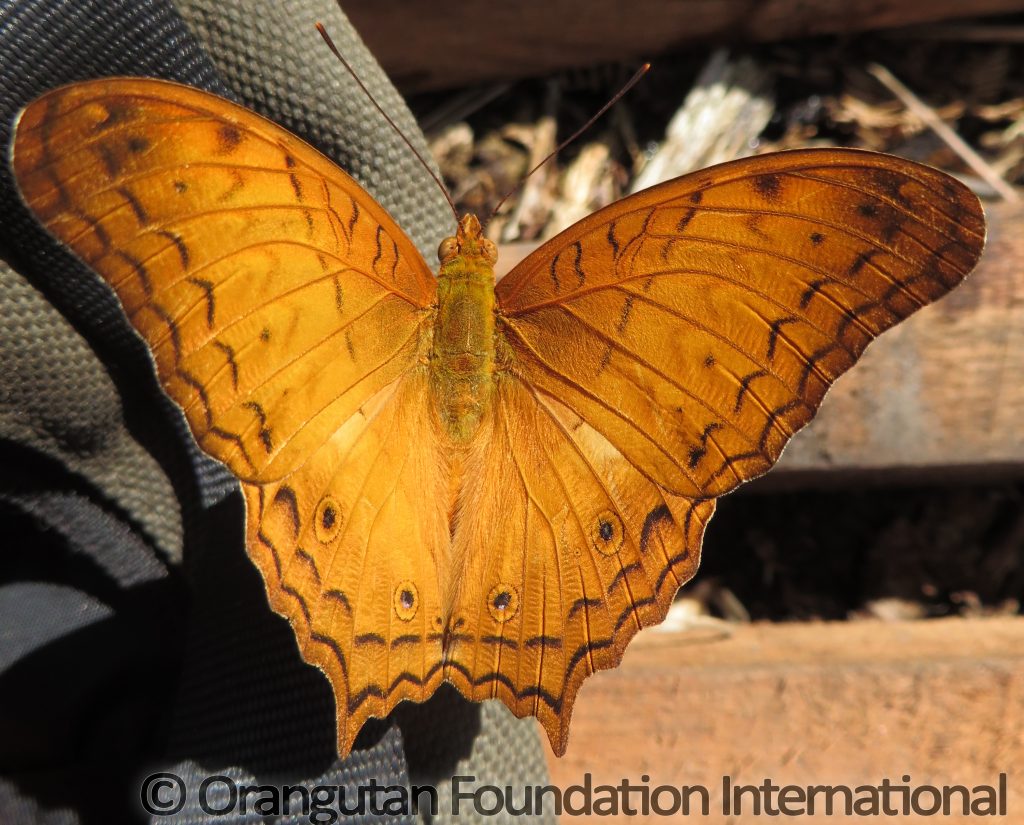 We are a group of six foreigners and two local carpenters, helped by the OFI Indonesian employees who live at the release camp. Our contribution is, in reality, rather small. But, we are rewarded with the sense that we are, at least, doing "something" for the natural world, which seems to be coughing and sputtering from human abuse. Our volunteer group brings together young individuals from around the world to work together, at times in difficult conditions. It is a unique experience to learn carpentry, under the supervision of Pak Yatim and Pak Masri, our expert local Indonesian carpenters. Ruth Linsky and Brodie Philp, our coordinators and dedicated long term OFI volunteers, provide ongoing translation and banter to keep us all motivated. It is a personal challenge. At times, my 40 year-old body feels exhausted trying to keep up with my younger counterparts. However, I am invigorated by my sense of achievement. Hypnotized by the butterfly on my arm I start pondering thoughts of returning in the future to do this again. The butterfly moves on, innocently unaware of the greater perils of this planet, and we must get back to our construction work.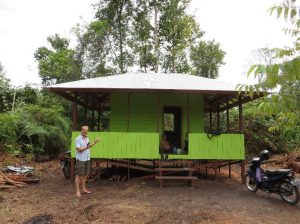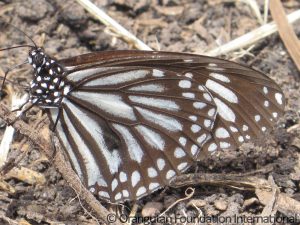 Now that I have come home from Borneo and the Construction Team is over, I miss the orangutans that bonded with us over such a short period of time in our release camp. Linda, the first to approach and take an interest in meeting me. Sandra the youngster who liked to entertain us. Lydia the naughty one who stole our soap. Topan who held my hand as a seemingly lifelong friend. Each with different and beautiful personalities. I hope their futures are secure. Our Team was exposed to many aspects of OFI's works of care, rehabilitation, forest salvaging, and conservation lobbying. I can fully endorse their arduous task. We were fortunate enough to meet Dr. Biruté Mary Galdikas. Dr. Galdikas has sacrificed her life in this battle, and as founder of the OFI, her work has ensured the orangutans do have a realistic chance to survive. I will never forget this special experience or these wonderful animals as well as the fantastic Indonesians at the release camp who looked after us with such selfless care.