It was almost exactly seven years ago that I made my first trip up the black waters of the Sekonyer River to Camp Leakey I was heading into the forest as a construction volunteer for six weeks. I wasn't sure what to expect but I knew it would be the trip of a lifetime. I was right. And now I am lucky enough to take this trip of a lifetime again with the addition of new excitement and old memories.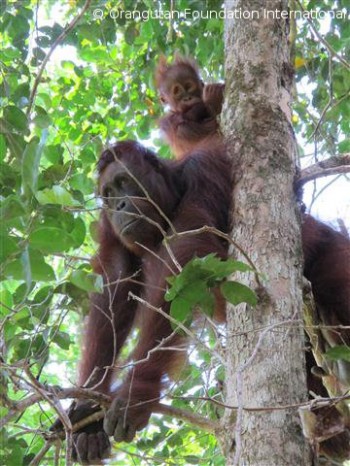 I cannot help feeling a great sense of pride as we approach the jetty that welcomes us to Camp Leakey. On each side of the jetty are two shelters built of ironwood, determination and perseverance. My hands, along with those of eleven other construction volunteers, helped build the shelters in the summer of 2004. As I sat in a movie theater in Vancouver, Canada to watch the premier of "Born to be Wild" just a few months ago, I saw the shelters on the life-size IMAX screen which brought tears to my eyes. I may have left Camp Leakey seven years ago, but a part of me has and will always remain there.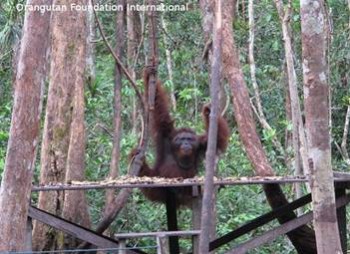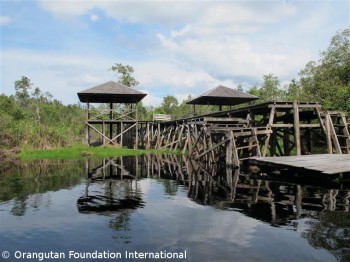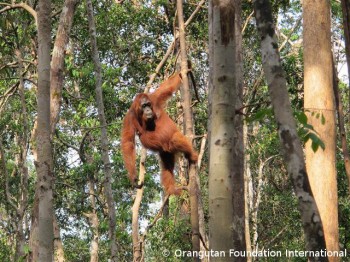 There have been a few changes at Camp Leakey over the years but for the most part everything is how I remember it. Many orangutans still visit the daily supplementary feeding in the forest while visiting tourists observe in awe. The kitchen has received a much-needed renovation thanks to the construction volunteers of 2010. Dr. Galdikas' research assistants still play soccer at the end of each work day.
The game now takes place at the small field in front of the Information Centre instead of the large field that is now a growing forest. The one constant at Camp Leakey that always takes my breath away, aside from the orangutans, is the vast night sky overflowing with stars including a view right into the Milky Way. It is worth the trip to Camp Leakey just to see the stars.
There are orangutans here that I remember: Princess, Akmad, Percy, Pan, Tutut and Siswi to name a few. Siswi is still the same as I remember her, a larger than average adult female who fills the position of "Queen of Camp Leakey". Siswi can usually be found laying on her back in the middle of the jetty or a forest pathway practising her "happy baby" yoga pose. The last time I met Siswi, she stole my camera and smashed it against a tree trunk high up in the canopy! Princess, who you may remember from a 1980 National Geographic magazine cover as an infant herself, has a new baby named Puteri (the Indonesian word for princess). Her sons Pan and Percy are also still around and much bigger now than the babies in my memory. There are many faces that are new to me: the faces of small infants. Camp Leakey is no longer a release site for ex-captive orangutans so these new faces are proof that a future for rehabilitated and wild orangutans in Tanjung Puting National Park is possible.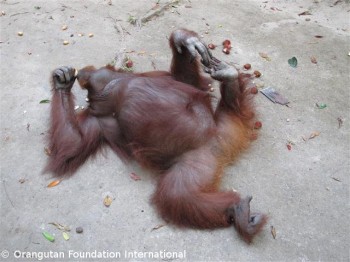 The biggest change at Camp Leakey since my first visit is that Kusasi, although still in Tanjung Puting National Park, is no longer King. Kusasi's reign ended when Tom was able to prove his dominance. Tom is an enormous cheek padded male who has a very different personality from Kusasi but is no less qualified for the role. The only circumstances that frustrate Tom are when females ignore him or when the wild pigs try and steal his food. When Tom is nearby, the other resident orangutans acknowledge his royal presence by getting out of the way! Tom's face does not yet have scars that tell stories of epic battles for supremacy or winning the attention of females like his predecessor, but he is still young and has many years ahead of him.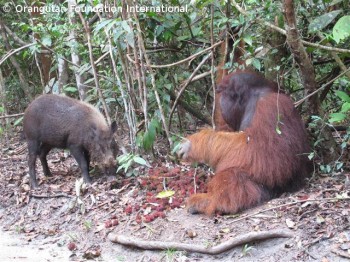 What I love most about Camp Leakey is seeing infant orangutans in the arms of their mothers where they belong. Not only have ex-captive orangutans been able to successfully reproduce in the wild, their offspring have the chance to truly be wild. In Camp Leakey, the orangutans are free. Free to forage for their favourite fruits. Free to build night nests wherever they choose. Free from harmful poachers, illegal loggers and palm oil plantations. Free to be wild . If you also have the dream of visiting Camp Leakey, I strongly encourage you to do so. But please remember to leave only your footprints and take nothing but memories (and of course photographs).