How to fulfill a lifelong dream and make a contribution to the cause of Orangutan survival in the wild?
I have succeeded in both and if I tried to explain how that actually felt…well..I am not so sure it is possible. I trekked through the hottest and wettest jungles by traveling 52 hours round trip to visit Kalimantan, Borneo (which, by the way, is in Indonesia for those who might think, like I originally did, that it is in Africa). So, you are asking yourselves…did I bring a blowdryer? The answer to that would be more like a visual…with me throwing my head back and letting out a loud HAHAHAHA! (That's a resounding "NO" just in case you still have not gotten on board).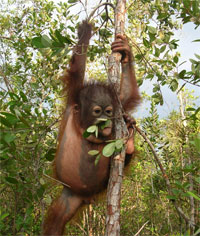 The question I keep getting asked is "why on earth did you go to Borneo?" My answer is simple yet complex. I thought it would be really cool. Seriously, I went on this expedition to visit the majestic Orangutans and to meet Dr. Biruté Mary Galdikas. This amazing woman established the facility for wild Orangutan research and orphaned Orangutans called "Camp Leakey" almost 40 yrs ago. How could I not go?! I would be meeting 2 of the greats in Borneo – what a dream come true for me. This was an expedition far beyond my wildest imagination and far exceeded my childhood dreams.
I was extremely interested in Chimpanzees and Gorillas, starting at the young age of 9, being riveted by stories involving Jane Goodall and Dian Fossey. I wasn't aware, until I decided to go on this trip, that Dr. Galdikas was linked to them by the famous Kenyan archaeologist, Dr. Louis Leakey, who encouraged all of these fabulous women to study different primates. In fact, they were called "Leakey's Angels."
After viewing a PBS special with Julia Roberts with Orangutans at this place called "Camp Leakey" someplace in Borneo (again, thinking she was in Africa…my history teachers better not be reading this article…obviously not one of my strongest subjects) I was captivated. In fact, I am not so sure I even swallowed or blinked for the entire segment. I longed to go and have the experiences I saw Julia have. Yet, I was not an actor and thought it might not be possible for me. However, I never let go of the hope, dream and possibilities. I researched and researched (thank goodness for the internet) and found the Orangutan Foundation International that Dr. Biruté Mary Galdikas co-established back in the 80's. I read that there were trips people could take yet it wasn't the perfect trip for me. It's not what I envisioned myself doing. I didn't want a touristy thing where everyone went. I wanted a special and unique experience and I wanted to touch, hold, and look into the eyes of the Orangutans, especially the babies. I wanted to be in their presence and not like it was in some zoo. I held off for four years with the dream still in my heart and looking for THE perfect trip. When I lost my sister back in 2000 it stirred me to move on this dream even more. I mean, is there such a thing as a perfect trip or the perfect time or the right amount of money…ever? I don't think it exists really. I realized that it is as right and as perfect as I make it out to be. So I looked on the OFI website again and there it was…to my shock, delight and surprise, this brand new expedition with Dr. Galdikas herself for several days in the jungles of Kalimantan. I could not believe it. This time, I didn't think twice. I immediately signed up to go…I was heading to the jungles of Indonesia. Not the perfect trip (or so I thought), or the perfect time or enough money…but I knew this was the time for me to go on this long awaited journey.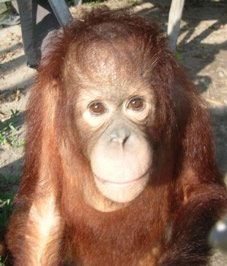 I not only met amazing and wonderful orange primates but I met such a wonderful, funny, intelligent, and brave woman who was so full of the warrior spirit it was humbling to be in her presence. Dr. Galdikas was so real and down to earth that talking with her and listening to her just made me want more. When I asked her how she struggled through the beginning years of malaria, injuries, jungle rot, cholera, snakes, crocodiles, fire ants, and constantly being beaten down by Indonesian politics if she ever wanted to give up… she simply said, without missing a beat, "yes, everyday." I was so impressed by that direct and honest response. I was kind of expecting her to say…"Oh no, I never wanted to give up…it's all wonderful". Instead, the answer she gave I could gather my heart around because it felt a LOT more realistic. I mean, not for nothing folks, but jungle rot cannot be something someone would be OK with…let alone malaria, accidentally macheting your leg to a bloody pulp, plucking off leeches from your body and many many other difficult and challenging experiences the Doctor had to endure. That cannot possibly be on anyone's "I have got to do this before I die" list. When I asked her what made her stick with it her reply made me respect her even more and made me realize just why and how crucial helping her would be. Dr. Galdikas shared that these Orangutans are her children, and that she could never give up on them. Simply put. As a mom of 3 great boys myself (sometimes I wonder if they are Orangutans…although they are not orange but they are kinda hairy)I understood what she meant so deeply…maybe only a mother can truly feel the depth of her statement. I do have to say that we all walked through the jungle in such silence…not because of the heat…but there was a respect to be paid in the air that was unspoken but very apparent and alive. We were walking in their territory. We were visitors. Orangutans command a respect that was and still is truly unexplainable. It was a beautiful silence. I understood her answer.
The day I saw an orphaned baby Orangutan, I almost started to cry. For that moment, that very moment, I could have closed my eyes, and gone back to being 9…that unexplainable passion I held in my heart all those years…was now coming true. To feel the sweet smelling softness of this baby was beyond anything I could have hoped for. I was constantly pleasantly surprised at how gentle these beings were. Their eyes were like looking into eyes of someone I knew, of my children, of my parents, of my friends. I no longer called them Orangutans but I kept calling them people…not sure when that started to happen but it felt perfectly natural. To know this baby, and all the Orangutans there, were orphaned made my heart ache in a way that was awful. To know this baby lost his mother due to poaching or for money or killed senselessly because of the ridiculous and hideously destructive palm oil plantations made me want to take a pro-active role in helping these beautiful Orangutans. Knowing this baby must have clung to his mother after she was killed, as Orangutans are known to do, made my heart ache. His name was Auru and I only wish I could have given him what he could never have again, his mother.
So, yes, this is about my wonderful expedition but it is also about so much more. This is about saving these wonderful beings, this is about raising awareness, this is about meeting an amazing woman who has beaten so many odds and continues to do so all in the name of preservation, conservation, love and hope, this is about hopes and dreams. This is about living your own life and fulfilling your own dreams now. So many people dare to dream and dare to live out their dream. I say to that….why not?!! We are all on this planet for a reason. Waiting one more minute to lend a hand and/or to live your life fully is simply wasted time.
The more we do for the environment…whether it is in our own backyard or across the world…it all affects each and every one of us. Dreaming is the first step to really living. Take a pro-active role in your life and in the environment we all live in. We are all neighbors. We need more hearts and outstretched hands.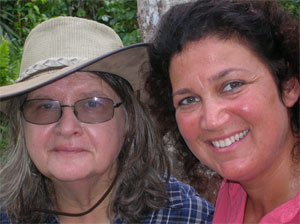 What you can do to help: go onto the OFI website store, which is here and make a donation. It is crucial that the forest is protected so these beautiful beings can be safely released and live their lives as they should..free. It only costs $300 per hectare which equals 2.47 acres. Thousands of hectares of tropical rain forest desperately needs protecting and that means we all need to help out by donating as much as we can so all the hectares can be purchased as soon as possible. Sadly, it is a race against time. Land is quickly being bought and destroyed by the owners of the palm oil plantations. Any and all donations are so appreciated.
Please be mindful of the items you use. You would be shocked as to how often and in how many items palm oil is used. If we stop using the items, then the demand will go down. As we all know, it is all about supply and demand. You can help. We can all help. Let's just do it…Thank you!
Donna Leder is originally from Plainview, NY but now resides with her 3 boys in Cherry Hill, NJ and is both a journalist and the founder of "POWER Skills-4-Life" which is an organizational skills and agenda setting program for youth. Contact Donna at Friendly7@comcast.net for any further questions.