The OFI Long Term Volunteer Program offers individuals a rare opportunity to travel abroad and witness firsthand the impact and realities of wildlife and habitat protection, by working at OFI's Orangutan Care Center in Pasir Panjang, Kalimantan. The OFI Long Term Volunteer is an unpaid position designed to increase OFI's impact and to offer participants a unique insider experience. Orangutan Foundation International protects 6,000 wild orangutans in Tanjung Puting National Park, in Kalimantan, Indonesia. Facilities include the Orangutan Care Center, which rehabilitates 330 young orangutans and prepares them for return to the wild, 16 guard posts throughout the park and numerous staffed feeding stations. Volunteering for OFI can have a big impact — on your life and the lives of the thousands of orangutans we fight to protect. Each year, OFI is grateful to receive many kind inquiries from volunteers willing to spend weeks, months, even years in Kalimantan, helping in the Orangutan Care Center or in Tanjung Puting National Park.
Except for the positions listed, OFI is not currently setup to accommodate volunteers in the field. We are proud to be a major employer in Pasir Panjang (home of the Care Centre.) Each job we create for Indonesians represents proof that environmental conservation and economic development can go together.For our successful long-term volunteers, OFI is pleased to be able to offer letters of reference that will serve as testimony of their dedication to our organization and the quality of the contribution they have made to our cause. Volunteers are expected to submit a final report on what they have learned, experienced, and accomplished during their tenure with OFI.
About the Orangutan Care Center and Quarantine (OCCQ)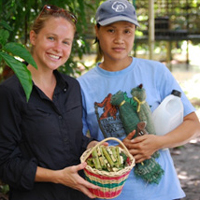 The OCC&Q is situated in the village of Pasir Panjang, a 15 minute drive from the small city of Pangkalan Bun. This city has an airport and is situated in the south of the province of Kalimantan Tengah, Borneo, Indonesia. Living conditions are basic, with limited running water, no landlines or Internet. Internet is available a 10 minute ride away in the town. Most of the locals speak rudimentary or no English. Languages are Indonesian and local Dayak dialect. The OCC&Q houses over 300 orphaned orangutans, most of who are being prepared for release. The majority of individuals are under 10 years old. The Centre consists of a central clinic and units housing the older individuals, while the outlying juvenile units and the medical quarantine facility are set in the surrounding 80 hectare forest. Most of the orangutans are very well-habituated to humans. They arrive in the OCC&Q by confiscation from homes, black markets, entertainment industry, and abusive zoos.
Life at the OCCQ
Volunteers work on a daily basis in the Orangutan Care Centre and Quarantine in Pasir Panjang. The staff working hours are 8:00 to 16:00, with a lunch break at around noon. If desired, the volunteer may take one day off a week. Living arrangements are typically with a local family homestay. The quality of care in the homes varies, from simple room accommodation to cooking and laundry. OFI makes an effort to arrange homestays for all its interns and volunteers, but there is an element of unpredictability in any such arrangements. In case of emergency, hotel/motel accommodations are present in Pangkalan Bun and even closer to Pasir Panjang. Food is provided to local staff and all willing volunteers in the Care Centre twice a day (breakfast and lunch). The fare is simple but healthy (usually rice and vegetables or tofu). Dinner is the responsibility of the volunteer (homestay families may cook for their guests).
Critical Success Factors
Successful OFI Volunteers tend to share certain skills and characteristics:
Experience traveling, working or volunteering in developing, tropical nations
High degree of flexibility, open-mindedness, creativity and optimism
Strong interest in orangutans and other endangered wildlife
Dedication to working in the field in primitive conditions
Ability and commitment to fundraise for the trip
Program Costs and Requirements:
Volunteer positions are unpaid. The volunteer is responsible for flights, internal transportation, visas and health insurance. Successful applicants will receive an assignment of four to six months. OFI will organize a homestay with a host family. Room and board ranges from $200-$250 USD a month. The complete cost of a six-month volunteer experience originating from North America is approximately $3,800 USD. The following documents are required from all volunteers prior to departure:
Proof of vaccinations of: hepatitis A and B, typhoid, tetanus (Vaccination book scans/photocopies, or a health certificate from a doctor)
Negative tests results from the following diseases:
Proof of medical insurance (including emergency evacuation)
Proof of travel abroad insurance
Signed work contract
Signed confidentiality agreement
How to Apply For a Position in the Long Term Volunteer Program:
Admission to the volunteer program is competitive. To apply, please follow these steps:
All applicants must be members in good standing of OFI. To join OFI, please visit here. The fee is $35 for a student or senior membership.
Fill out the Long-term volunteer application form at: Volunteer Application Form
Proof of OFI membership
Cover letter
Resume
Two contact names of reference
You will receive a return reply from one of our volunteer coordinators within one week. Please note that all of our volunteer coordinators are themselves volunteers, so please be patient if there is an occasional communications delay. The following are positions in our volunteer program. Please note that not all positions are available at all times.
Communications Volunteer
DOWNLOAD COMPLETE JOB DESCRIPTION
Job Description
The OFI Communications Volunteer is a position well-suited to energetic and innovative individuals. The Communications Volunteer is an integral part of the OFI Team, acting as OFI's eyes and ears in the field and helping to extend limited resources to maximum effect. The Communication Volunteer's dual background in both communication and conservation allows him or her to be at home amidst the confusion of the Orangutan Care Centre while translating the action to a public presentation for the global OFI community. This requires correct interpretation of events and engaging, appropriate presentation through various forms of communication media. Communication Volunteers gain experience and insight, and contribute fresh thinking, into a critically important aspect of conservation – involvement of the international public. OFI has a long and established history as a research, conservation and education organization. It is vitally important that this work continues to be brought to the attention of the public, and the friends and donors involved with OFI. OFI Volunteers fulfill tasks set out in a Work Plan defined by OFI. The Volunteer is based in the Orangutan Care Centre and works closely with OFI's North American staff and volunteer team.
Work Plan:
Connect OFI donors who have adopted orangutans to their adoptees by getting to know the orangutans in the care centre, observing the behavior and personalities, communicating with the stuff for unique stories and quirks, photographing the infants; subsequently,compiling the information and presenting it in attractive format for the bi-annual updates.
Co-supervise the on-the-spot orphan orangutan adoptions which visitors to the Care Centre can sign up for. This involves regularly sending new donor information to the OFI head office in Los Angeles.
Participate in production of monthly eNewsletter and bi-annual printed PongoQuest newsletter. Specifically: write articles and collect other written and visual material, edit the newsletter, help with formatting, etc.
Contribute material to OFI's main website by writing diverse articles on events and news, as well as day-to-day points of interest, about work in the Care Centre. Articles are meant to be multi-faceted and diverse so as to appeal to the wide range or visitors to the website.
Keep OFI's other communication channels (Facebook page, Twitter, Ning volunteer site) updated and current with material suitable to the channel's audience (e.g. new arrivals to the centre, Photo of the Day/Week).
Photograph significant events, orangutans, OFI staff, jungle flora and fauna, and other subjects as needed by the OFI team. At the end of the term, submit non-personal photography for OFI's educational and marketing use and reference.
Develop innovative ways to facilitate connections via creative journaling, YouTube video, and other means.
Create blog entries, visuals, and other updates to help build the rich content that encourages OFI donors to adopt orangutans and to renew their adoptions
Be the link between the OFI team in North America and the other OFI volunteers on the ground in Kalimantan. Duties would include airport pick-ups, introducing new volunteers to the rest of the team and staff, emailing on behalf of volunteers out in the field, if necessary, and other tasks as needed..
Help OFI by gathering field data and partnering with remote OFI staff to create grant proposals and to fulfill the reporting requirements for existing funding.
Communicate regularly with OFI, preferably daily or once every other day.
Understand and promote OFI policies.
Provide updates and feedback through weekly progress reports and a final end-of-term report within one month of returning.
Complete other tasks for OFI as needed.
The tasks outlined above are only the standard responsibility of the communications volunteer. Every tenure will also involve one or more special projects which will address the communication, outreach and fundraising needs of OFI on and off the field at the time.
Job-Specific Requirements:
Excellent writing skills
Strong interest in orangutans and other endangered wildlife
Familiarity and comfort with various web applications
Dedication to working in the field under primitive conditions
Experience in working with teams of people of very diverse backgrounds and personalities
Some experience with photography and video filming, and ability to bring own camera with video capabilities to the field.
Sincere interest in the history and culture of Southeast Asia
Fluency or some communication ability in Bahasa Indonesia
Background in environmental sciences
Enrichment/Release Volunteer
DOWNLOAD COMPLETE JOB DESCRIPTION
Introduction:
The OFI Volunteer Program offers individuals a rare opportunity to travel abroad and witness firsthand the impact and realities of wildlife and habitat protection, by working at OFI's Orangutan Care Center in Pasir Panjang, Kalimantan. The OFI Volunteer is an unpaid position designed to increase OFI's impact and to offer participants a unique insider experience.
Job Description:
The goal of the OFI Enrichment Volunteer is to improve existing and create new ways of enriching the conditions under which the orangutans at the Orangutan Care Center and Quarantine (OCC&Q) are housed. While most individuals are taken into the jungle daily, it is important that the time they spend in their night cages is comfortable, stimulating and as stress-free as possible.
Work Plan:
Enrichment activities are coordinated by the local Enrichment specialist who works at the Care Center. The two Enrichment Volunteers work closely with this person and share the duties, as well as bringing their own unique skills to the task. The Enrichment Volunteers will start work at 8 AM as all staff and volunteers at the Care Center. Their routine daily duties will include:
Preparing behavioral enrichment, including food treats such as rattan balls with peanuts and raisins inside, pipes with jam or peanut butter, coconuts, ice flavored with fruit syrup, jelly and popcorn, etc.
Providing items such as sacks, towels, boxes etc for play and forage opportunities
Going with staff daily to collect branches for browse and nest-making material
Shopping for materials when needed
Making additional environmental enrichment items such as tire swings, hammocks, puzzle feeders, forage boxes etc.
Cooperate with the Coordinator to file a guided weekly report
Lunch break is noon-1 pm, and the work day wraps up at 4 PM. The Enrichment Volunteers are expected to exercise their past experience and creativity by coming up with novel, ingenuous ways to keep orangutans engaged and active in their environment. This will include creating new toys, games, or using cheap and readily available materials in the Care Center or the village to improve the quality of life for the orangutans.
Position Duration:
There are two Enrichment Volunteers at the Care Center on an ongoing basis. The length of this position is 6 months or more to be determined by you before coming to Indonesia. Another volunteer will replace you immediately before or after your departure.
Job-Specific Requirements:
Education requirements: some education in biology, animal behaviour, wildlife biology, animal husbandry or other relevant fields.
Experience requirements: Some experience in animal care and husbandry, zoo experience, veterinary experience, and/or education in animal husbandry, care and psychology. Ideally, this candidate will have had experienced in primate care and in habitat enrichment specifically.
Skill requirements: knowledge of animal behaviour, ability to work with challenging, heavy materials, calmness in work with potentially unpredictable animals. Ability to work with local Dayak culture.
Language requirements: ideal candidate would have some proficiency in Bahasa Indonesia. Every candidate must have strong willingness and ability to learn before or during your term.
Physical capabilities: physically fit, resilient and high-endurance individual.
Health status: Able to live for long period of time away from western hospitals and possibly in isolated forest.
Sun Bear Volunteer – Indonesian Borneo
DOWNLOAD COMPLETE JOB DESCRIPTION
Orangutan Foundation International is seeking a new sun bear rehabilitation volunteer to participate in the care of two juvenile and one adult sun bears, as well as the reintroduction of a young bear cub currently being rehabilitated in Central Kalimantan, Indoneisa. The reintroduction project started in May 2011 and in August of this year we facilitated the translocation of the orphan cub to our release site where she has begun the rehabilitation process. Her rehabilitation so far has been based on the proven 'walk-release' method, in which she is walked daily in the forest by her 'bear walker' (a current Rehabilitation Coordinator). This will enable her to adapt to living in the wild and develop the foraging skills necessary to survive, while also functioning to establish her territory. Previous sun bear releases suggest that human presence during this time helps to deter wild bears from displacing or attacking the young, naïve cubs during the rehabilitation process.
Job description:
The volunteer will work closely with a current Sun Bear rehabilitation coordinator during the internship. The current coordinator will trade off 'shifts' at the forest release site with the volunteer (after, of course, the training period has completed). When not in the forest, the Sun Bear Volunteer will be busy caring for two juvenile and one adult sun bears at our Orangutan Care Center and Quarantine facility in the village of Pasir Panjang, Kalimantan Tengah, Indonesia.
The volunteer's in field responsibilities include:
Participating in the rehabilitation and release of a year old sun bear cub at a remote forest location
Full length daily walks with the bear in the swamp forest so that she can adapt to living in the wild and learn the foraging skills necessary for survival
Daily record keeping of the bear's behavior, important events and progress
Radio tracking to locate and monitor the bear once she becomes more confident and independent in the forest (onsite training will be provided)
Assisting the resident OFI staff with all camp household duties
Participating in OFI's other field projects, if needed
During times away from forest release site, the major responsibility will be assisting the Bear Coordinator with the rehabilitation/care of two juvenile and one adult sun bears currently housed at the OCCQ, including daily husbandry and routine chores such as cleaning, feeding, enrichment, behavioural observations as well as helping with a large enclosure construction project planned for the next year
Administrative responsibility:
Documentation of rehabilitation for future reference
Compilation of data collected in the field
Occasional article writing for OFI website and other media, as requested or needed.
Approximately half of the intern's time will be spent at the forest rehabilitation release location of the young female. The new intern would be trained in the field by the current sun bear rehabilitation coordinator as the start date for this position is ASAP. The most important factor to success in this position is a genuine desire to establish an intense bond with the bear cub. Under the guidance of the current coordinator, the training period will be agreed upon and monitored until it is mutually felt the new intern is ready to be in the field alone with the bear. It must be noted that the cub will be naturally wary of strangers and it will take some time before the cub is comfortable with the new intern, and a period of intense adjustment must be expected.
Requirements:
A desire to bond with a bear cub in a holistic way
Readiness to spend 10 hours a day alone in the forest with the bear, 2 weeks a month
Must be mature, wanting to give protection, love and lots of time to the orphan cub
Background/interest in biology, zoology, ecology or related field
Interest in behavioural observation data collection.
Experience working in hot, bug ridden, heavily forested, preferably tropical environments.
Comfortable with extremely basic and isolated living conditions: one room hut shared with other camp staff, no electricity or running water, 1.5hr walk + 30min boat ride to nearest town, no reception.
A decent level of fitness, capable of walking long distances each day carrying a light load (lunch, water, camera, data collection sheets, etc).
Confidence and willingness to supervise the project, while maintaining good relationships with the field assistants and other OFI staff
A basic level of Bahasa Indonesia or an interest in learning the Indonesian language as this will significantly increase your success rate as well as enjoyment of the position
Accommodation:
In Field:
Simple and basic one-roomed hut surrounded by a mixture of secondary and primary rainforest. The site is located at one of OFI's former orangutan release stations. Wildlife is abundant, including wild ex-captive orangutans and even wild sun bears. There is no running water and washing is done with a scoop and a bucket. There is a squat toilet in an outhouse near the hut,.
All food will be delivered by OFI staff and is generally basic – rice, noodles, sardines, occasional vegetables, tea and coffee, etc.
In Village:
Living in comfortable shared homestay owned by OFI staff member. Approx 1 million Rupiah per month includes food and electricity for two weeks of the month. There are shops nearby and it is within walking distance of OFI Care Center facility. The house will likely be shared with other OFI volunteers and staff members as well as the current sun bear coordinator.
Time period:
Ideally 6 months or more (negotiable)
About sun bear conservation:
The Malayan sun bear is understudied, and little conservation action has been targeted at it. The Malayan sun bear has been listed on Appendix I of the Convention on International Trade in Endangered Species (CITES) since 1979, which prohibits international trade, and the killing of the sun bear is prohibited under national wildlife protection laws, however, little enforcement of these laws occurs. The Malayan sun bear is part of an international captive breeding programme and has a Species Survival Program under the American Zoo and Aquarium Association. More research is required as only recently have field studies started to investigate the basic biology, ecology, and behaviour of wild sun bears. Conservation of sun bears needs to focus on protection of their forest habitat, proper management of these areas, strict enforcement of their legal status, minimizing human-bear conflict near forest areas, and halting trade in bear parts. (from http://www.arkive.org/malayan-sun-bear/helarctos-malayanus/#text=Conservation)
Assistant to Dr. Galdikas, Internship
DOWNLOAD COMPLETE JOB DESCRIPTION
Background
Dr. Galdikas is a well-known primatologist specializing in orangutan research who has devoted the last forty-two years to the study and protection of wild orangutans.  As the President of Orangutan Foundation International, she is responsible for 180 Indonesian employees, 330 orphan orangutans, 6,000 wild orangutans, and 1,800 square miles of protected forest.  In addition to her busy schedule of speaking engagements, fundraisers, and conferences around the world,Dr. Galdikas divides her time between Camp Leakey and the Orangutan Care Center and Quarantine (OCCQ) in Borneo, Indonesia, and Simon Fraser University in Vancouver where she is a full professor and the administrative offices of OFI in Los Angeles.
Job Description
The primary role of the OFI Intern is to help Dr. Galdikas manage all her professional and personal commitments that are challenged by Dr. Galdikas' demanding schedule, constant travel, and intense commitment to all aspects of the organization.  Interns act as a conduit between Dr. Galdikas and the many OFI stakeholders, including donors, staff, and volunteers who are spread across various continents and time-zones.  Interns may also be involved with work to support Dr. Galdikas' future research publications.  Interns will gain experience with public relations, fundraising and donor communication, developing platforms and strategies for activism and public policy initiatives, and daily operations at the field-site including purchasing supplies, managing inventory, geographical and environmental surveys.  There will be an opportunity for hands-on involvement with the orangutans and other ex-captive animals being rehabilitated at the Care Center, including behavioral and dietary enrichment, health checks, and more.
Central responsibilities include helping Dr. Galdikas in day-to-day activities and commitments, keeping track of approaching deadlines and helping Dr. Galdikas meet them, maintain contact with staff, donors, volunteers, board and other stakeholders, and taking menial and repetitive tasks off her hands.
Daily tasks are highly variable.  Interns may be asked to assist with any and all aspects of OFI's work. Those listed below represent only some of the more common tasks.
Critical Success Factors
The successful candidate for this position will have the following attributes:
Passion for orangutans and rainforest conservation, dedication to the mission of saving orangutans coupled with a will to seek out opportunities and to pursue them.
Strong loyalty to Dr. Galdikas based on respect for her achievements and perseverance
Enjoy working with people, highly personable, friendly, and diplomatic.
Highly flexible in personal habits and space, comfortable with last-minute change, happy to "go with the flow" in confusing situations.
Ability to multi-task and to pursue many projects in parallel, to keep all tasks organized, and to help all participants stay on a timeline
Excellent writing skills
Interest in and desire to write all of as much as possible of correspondence, research papers, reports, and articles required to advance OFI and Dr. Galdikas' cause.
Veterinary Volunteering
The Orangutan Care Center and Quarantine is staffed by two full-time, Indonesian veterinarians. However, we will sometimes accept qualified veterinarians, especially with primate experience, for medium to long term internships at the OCCQ. Please contact our Volunteer Team (ofivolunteer@gmail.com) with your CV and a short cover letter, if you would like to be considered for veterinary volunteering at the OCCQ.
Field Volunteer Coordinator
DOWNLOAD COMPLETE JOB DESCRIPTION
The Orangutan Foundation International Field Volunteer Coordinator is a position well-suited to energetic, outgoing, and adaptive individuals. The Field Volunteer Coordinator will gain an applied experience in field conservation and outdoor leadership.
Job Description:
This position is based in the Central Kalimantan village of Pasir Panjang and works closely with OFI's local and North American staff, Volunteer Committee, and volunteer field team. We are interested in finding someone willing to make a significant commitment to our volunteer program as well as making a greater contribution to OFI in the future. This position is an excellent way to make a concrete contribution to field operations while learning in depth about OFI`s conservation, rehabilitation, and research efforts, as well as Borneo's ecology, culture, and political climate.
OFI runs two volunteer programs: Long Term Volunteers (6 month positions in Communications, Orangutan Enrichment/Release, Sun Bear Rehabiltiation/Husbandry, and Veterinary Assistants) and Short Term (Construction Teams lasting 2-3 weeks). We are looking for someone to manage the field aspects of both programs. Responsibilities include handling logistical arrangements, acting as a mentor and facilitator to new volunteers and a liason between volunteer and staff, and keeping accounts and records as necessary. The Coordinator should be prepared to advise volunteers directly on both professional and personal issues, or be able to find the staff-person most qualified and available to help the volunteer. The Coordinator will report to both Dr Birute Galdikas and to the Volunteer Committee in North America, keeping all parties updated as to events in the field, and acting on their directives at critical junctures.
The Field Volunteer Coordinator should be familar with all the volunteer positions, understanding the job descriptions, requirements, and daily tasks. (As the Enrichment/Release position often requires the most involvement, candidates with experience in Animal Enrichment and Animal Husbandry are preferred.) The job descriptions are each very broad, including more tasks than a single person can accomplish. The intention is that each volunteer finds a focus/specialty suited to their skill-set and temperament. Often, volunteers have been accepted with specific assignments in mind relevant to their background. At other times, urgent need and extenuating circumstance requires adjusting volunteers' focus or reassigning roles. The Coordinator should be part of such discussions with the Committee and Dr. Galdikas. It is the Coordinator's responsibility to communicate assignments to the volunteers and ensure that they are comfortable with what they are asked to do, supported in learning and undertaking all tasks, and fully understand the expectations.
Position Duration:
one year (minimum)
Application Deadline:
Applications accepted until position filled/rolling
Qualifications/Experience
Leadership experience with people of very diverse backgrounds and personalities
Ability to keep timely and professional correspondence with remote work partners
Experience working in remote and rural field conditions
Communication ability in Bahasa Indonesia (with the willingness to learn ahead of time AND daily throughout the volunteer tenure)
Preferably, experience with animal husbandry (hands-on with exotic/non-domestic animals) and enrichment techniques
Life as the Field Volunteer Coordinator:
The Dayak village of Pasir Panjang is a 15 minute drive from the small city of Pangkalan Bun. The city has a small airport and is situated in the south of the province of Kalimantan Tengah, Borneo, Indonesia. OFI`s Orangutan Care Centre and Quarantine is located in the village of Pasir Panjang. The Coordinator will live in a home-stay in Pasir Panjang (rent will be paid by OFI). The quality of care in the homes varies, from simple room accommodation to cooking and laundry. OFI makes an effort to arrange homestays for all its interns and volunteers, but there is an element of unpredictability in any such arrangements. In case of emergency, hotel/motel accommodations are present in Pangkalan Bun and even closer to Pasir Panjang. The Coordinator will accompany the Construction Teams to other field sites and stay there for the duration of the construction projects. Living arrangements depend on the project of the construction team. Regardless of this, conditions are basic, with limited running water, sometimes no electricity, and occasionally no cell service or internet access
The Care Center facility operates around the clock all days of the week. Volunteers are expected to work approximately the same hours as the majority of the staff (8am-4pm) six days a week (day off flexible). The Coordinator is expected to be present the same hours, but they will also need to be available/contactable at all time to volunteers and staff. There will be ocassional demands outside of normal working hours as meetings with Dr Galdikas generally take place in the evenings and Skype calls to other countries must be arranged around time-zones.
In order to truly be successful in this position the Coordinator must be open minded, learn quickly and have a genuine passion for working with people. In addition, the Coordinator will need to be capable and willing to make themself an exemplary example of appropriate behaviour and conduct; they must be sensitive to how their actions and attitude are interpreted in the cultural context and must be comfortable in an environment with no clear line between work and personal life.